A new nightlife in Tibet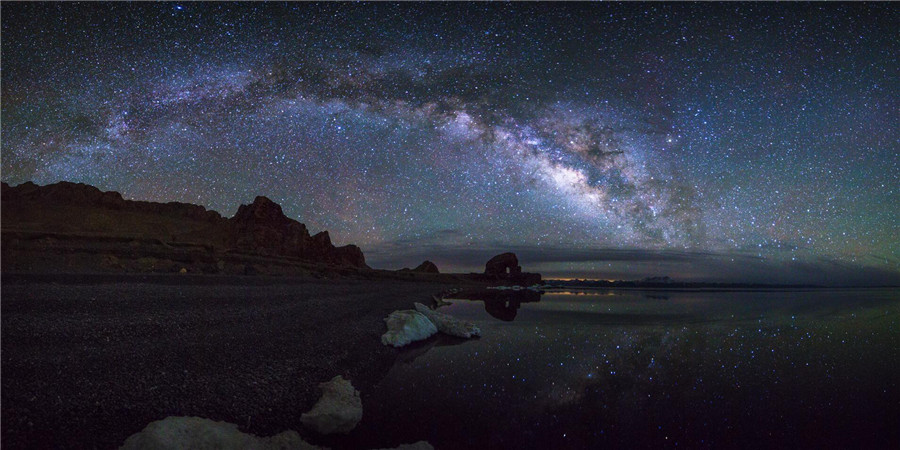 A Milky Way arch over Namtso Lake. [Photo/Xinhua]
From the Milky Way to meteor showers, the region is a stargazer's paradise.
The sunset glow on the snow-covered plateau is an enchanting opener for Tibet at night-a stargazer's paradise.
Xiao Bei, a tour guide in Southwest China's Tibet autonomous region, takes out his mobile phone and opens an app of star charts to find where the Milky Way will appear. Then he takes his tour group to the best place to set up their cameras, waiting for the stars over the Himalayas.
The previous night, they knelt by a puddle to capture the reflection of stars and Mount Kailash, regarded as a sacred mountain by Tibetans. This night, they lie on the ground to see the occasional meteors flying over the ruins of the mysterious 1,000-year-old Guge Kingdom in Ngari Prefecture, in western Tibet.
Xiao Bei and his partners run an outdoor club, which has run stargazing tours for the past three years.
The Perseid meteor shower in August attracted about 70 clients. Most of them come from large cities like Beijing, Shanghai and Guangzhou, where stargazing is a luxury. In Tibet, many of them see the Milky Way for the first time in their lives and take their first photos of a starry sky.
In 2014, Xiao Bei accompanied experts from the Guangzhou Astronomical Society around Tibet to take photos of the starlit night. That was the first time he was astonished by the brilliance of the stars.
The experts told him they couldn't predict what the camera would capture.
"That drew me in. It's a kind of exploration of the unknown. Although I spent a lot of time outdoors before, it was the first time I realized I should look up at the sky," he says.