Cambodia's 'bamboo trains' on track to disappear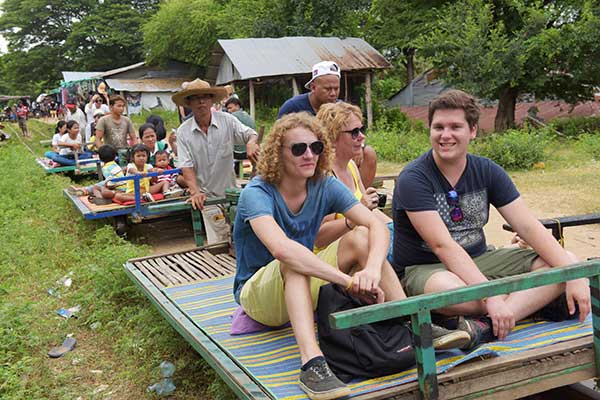 Tourists enjoy their journey on a bamboo train in Battambang, about 291 km northwest of Cambodia's capital Phnom Penh.[Photo provided to China Daily]
The handmade bamboo trains that have delighted tourists for nearly two decades are vanishing as Cambodia restores railways for modern trains.
"It felt more like a rollercoaster, but it's really nice," German tourist Theresa Kessemeier says.
"I think it is a good way to transport really heavy things from one place to another."
Norry were invented in the 1980s by railway workers, who used them to check and repair train tracks in Battambang, about 290 kilometers northwest of the capital, Phnom Penh. Later, local people used them to transport goods and travel.
Residents used bamboo trains to carry tourists to see bucolic scenery along the dilapidated railroad in Sangke district of northwestern Cambodia's Battambang province until 1999. The bamboo trains have since become popular with foreign tourists.
Canadian tourist Lisanne Lacroix says: "I really, really enjoyed it. You get to see the (rice) fields. You get to see just everyday lives. So, it's a very great experience."
Norry provide a thrilling 7-km ride for $5. Or tourists can rent norry for $10 for a single trip. They can carry six passengers. The trains can be assembled or demolished in only a few minutes.
Two axles stripped from old vehicles are set on the train tracks, and a bamboo platform is placed on top. A small petrol engine is wedged into a hole cut out of the platform and tied to one of the axles with a rubber strap.
German visitor Arian Rathmann says he'd imagined it was like a real train but discovered it wasn't.
"It's different from what I thought of because when you hear about the train, you think it's like a big train with big wagon," he says.
"I didn't think it is just like a small platform, and you go like on a roller coaster. Very interesting. I like it."
About 40 bamboo trains serve tourists along the 7-km stretch of the dilapidated 388-km rail line from Phnom Penh to Banteay Meanchey province and the Thai border.