Racing rivers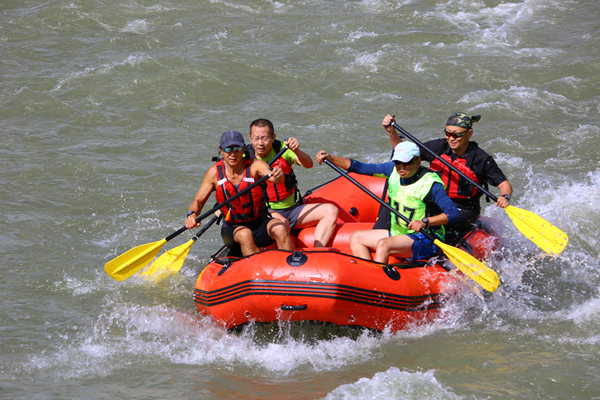 A rafting team floats along the Yellow River in a recent competition in the Yushu Tibetan autonomous prefecture in Qinghai province. Yushu sits more than 4,400 meters above sea level and is the source of the Yangtze, Yellow and Lancang rivers. It's ideal for rafting. [Photo provided to China Daily]
Veteran rafters recently competed in an event to mark the 30th anniversary of the first grueling expedition along the Yellow River. Yang Feiyue reports.
It's a commemoration of a dangerous and deadly adventure and achievement.
Twenty-four veteran rafters gathered in the Yushu Tibetan autonomous prefecture in Northwest China's Qinghai province in early August to compete in a race to mark the 30th anniversary of the first expedition to raft the entire Yellow River.
Yu Zhongyuan's team took third place in the 10-kilometer race.
The 66-year-old says the average age of his team members is 62.
He led a rafting team that floated along the entire Yellow River in 1987.
"We don't care about the result. We want to relive the past," Yu says.
Yushu is ideal for rafting. The prefecture sits more than 4,400 meters above sea level and is the source of the Yangtze, Yellow and Lancang rivers.
International Rafting Federation President Joe Willie said last year that the water volume, velocity and vertical drop of the Yellow River in Yushu makes for a technically challenging course.
The recent competition was hosted by Yushu's government and the Chinese Extreme-Sports Association.