Summit in Beijing explores tourism marketing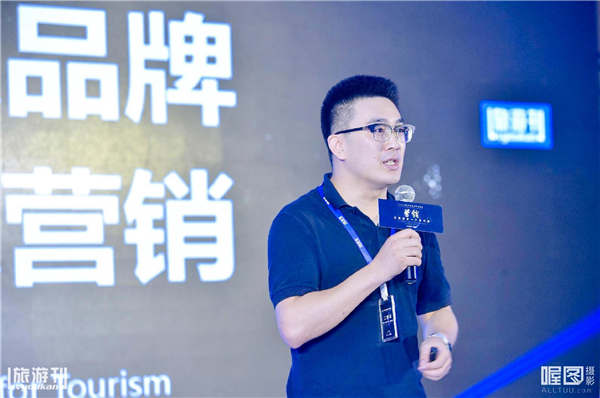 Zhao Fei, CEO of the sponsor Kanlv Media, delivers an opening speech at the first China tourism marketing summit 2017 in Beijing. [Photo provided to chinadaily.com.cn]
The first China tourism marketing summit 2017 was held on Friday under the theme "Marketing is a ten thousand possibility to recreation industry".
The event aimed to promote tourism by fully utilizing the marketing power, and companies from the tourism sector, public relations and related fields attended the summit.
Zhao Fei, CEO of the sponsor Kanlv Media, said at the opening speech that marketing is necessary in both good and bad business environment. As many traditional travel agencies are undergoing transformation, marketing creates more chances for them.
Big data and socialization give tourism marketing more possibilities, Zhou Xiaodan, an executive from LinkedIn, said.
According to Lu Xiaofei, co-founder of Lushu.com, an internet technology company dedicated to tailor-made tourism management, the tailor-made travel began to emerge in 2014, and 2016 marked the start of tailor-made travel era. "Chinese tourism has experienced a standardized product phase, and more personalized demands are emerging, which we call the era of tailor-made travel," Lu said.
Chen Zhiwen, CEO of Contineo Marketing, discussed the cultural conflict, and different values between the East and West, to help domestic tourism enterprises better service tourists in outbound sector.
Andy Xu, Tourism Western Australia's China marketing manager, Wang Shubai, vice-president of Tuniu.com, Pan Haodong, chief operating officer of TripAdvisor in China, and other prominent figures from the tourism industry shared their views at the summit.
Interactive discussions were also held during the summit focusing on hot topics in tourism marketing.
At the end of the summit, Blue Eagle awards were presented to enterprises and individuals who have made great achievements in tourism marketing. The awards were divided into several categories, including top 10 young marketing enterprises in China, the top destinations with marketing influence, and the best tourism marketing figure.