5th Jinshanling Apricot Flower Festival kicks off in Chengde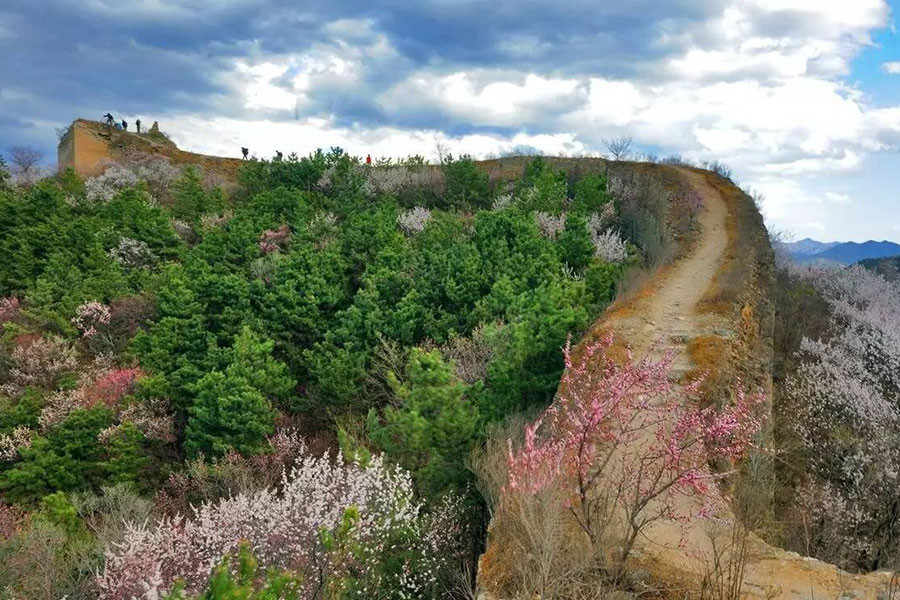 Flourishing apricot and peach blossoms as well as trees of different colors decorate the Jinshanling Great Wall in springtime. [Photo provided to chinadaily.com.cn]
Located in a mountainous region and about 140 kilometers northeast of Beijing, the Jinshanling Great Wall section is the best preserved part of the Great Wall from the Ming Dynasty (1368-1644), maintaining several original features.
The General Tower, Black Tower and Taochun Tower are must-sees at the Jinshanling Great Wall. Each tower contains its own legend. The General Tower was created to commemorate Wu Guihua, a heroine who sacrificed herself to resist invasions from the north during the Ming Dynasty. The Black Tower and Taochun Tower were christened to commemorate two girls, Heigu and Taochun, who also made great contributions to the construction of the Great Wall.
Luanping county enjoys rich cultural and tourism resources, and thanks to the 2017 Hebei Provincial Tourism Development Conference in Chengde, Luanping can take advantage of the opportunity to diversify its tourism industry while striving to become one of most attractive tourism leisure destinations in the province.
Now, let's take a look at highlights from the opening ceremony of the 5th Jinshanling Apricot Flower Festival.