Jinshanling Great Wall named holy place for photographers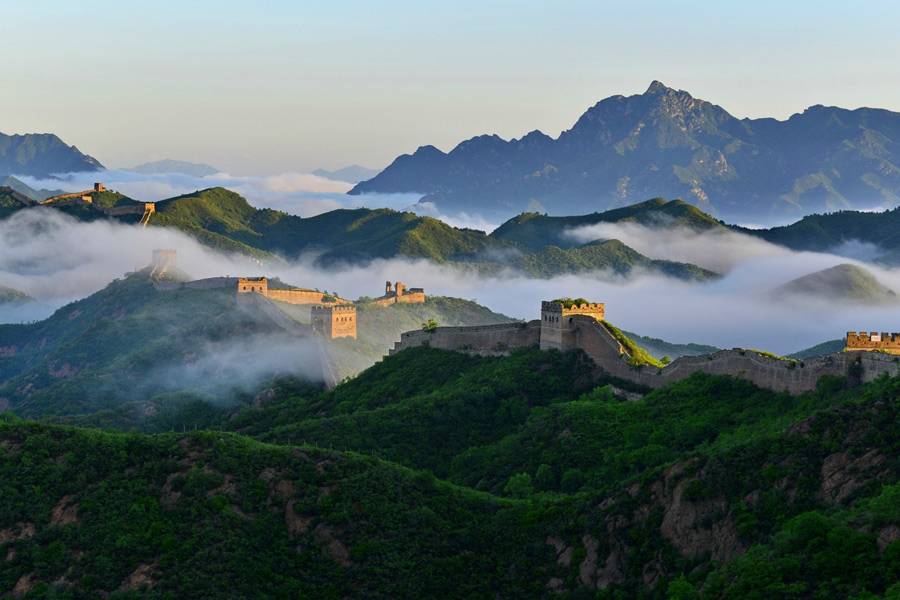 A sea of clouds engulfs the Jinshanling Great Wall. [Photo/Official weibo account of Jinshanling Great Wall]
With its magnificent natural scenery and rich human spirit behind it, Jinshanling Great Wall has been added to the Top Ten Holy Places for Professional Photographers in China, according to the China National Tourism Administration.
Located in a mountainous region of Chengde city, about 140 kilometers north east of Beijing, the Jinshanling Great Wall section is the best preserved part of the Great Wall from the Ming Dynasty (1368-1644) with many original features.
The Jinshanling section connects the Simatai section of the wall in the east and Gubeikou section in the west.
The General Tower, the Black Tower and the Taochun Tower are must-sees at the Jinshanling Great Wall. Each tower contains its own legend. The general tower was named to commemorate Wu Guihua, a heroine who sacrificed herself to resist invasions from the north during the Ming Dynasty. The Black Tower and the Taochun Tower were christened to commemorate two girls, Heigu and Taochun, who made great contributions to the construction of the Great Wall.
If you go, you will find yourself experiencing totally different scenery in each of the four seasons.
In spring, apricot flowers decorate the Great Wall. In summer, the winding dragon-shaped Great Wall is surrounded by a sea of green plants. In autumn, the Great Wall turns into a colorful place and in winter, heavy snow covers the Great Wall, adding a sense of magnificence and solemnity.
Now, as the spring has come, the annual Apricot Flower Festival kicks off at the beginning of April. If you have time, you should take your loved ones to witness the true beauty of the China's landmark.