Celebrities will review new cruise ship's offerings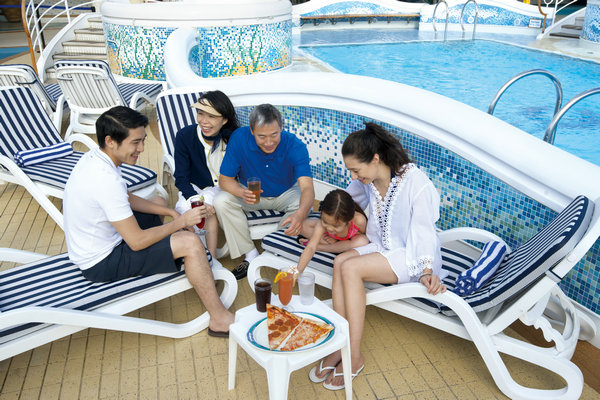 Chinese families travel on a Princess Cruises ship. [Photo provided to China Daily]
Princess Cruises will carry a group of Chinese celebrities aboard its newest luxury vessel, the Majestic Princess, on its maiden voyage to Italy, at the end of March.
The celebrities will share their experiences on social media and give feedback to Princess Cruises, helping them to better cater to Chinese travelers.
"We started this Master Council Program to create the best luxury-travel experience in China. Each council member has his own expertise, and will provide professional insights on our products," says Anthony Kaufman, executive vice-president of international operations for Princess Cruises.
The new ship, tailored for the Chinese market, will formally begin operations from its Chinese home port, Shanghai, in July, carrying 3,560 guests.
On its maiden voyage in March, renowned food critic Chua Lam will review the restaurants and other culinary offerings.
On board are two Michelin-star chefs-one at the French restaurant La Mer and the other at the Chinese Harmony Specialty Restaurant.
Kaufman believes Chua's professional advice will help the restaurants enhance their service.
"We have a good reputation for our food, which is a crucial experience for Chinese guests. And our research shows that, besides authentic Chinese food, Chinese tourists like French cuisine," says Kaufman.
Fashion designer Ji Cheng will offer advice on shopping at the nearly 1,100 square meters of duty-free retail space.
Composer and singer Chang Shilei will share his insights on the entertainment activities, such as the two Las Vegas-style shows and a water-and-light show.