China charms Berlin with Silk Road attractions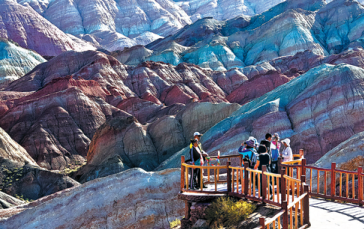 Zhangye Danxia Geopark attracts tourists from around the world to its colorful rock formations in Gansu province's Zhangye, an important commercial hub along the ancient Silk Road. [Photo provided to China Daily]
Chinese travel agencies on Wednesday charmed visitors at a key travel trade show in Berlin with Silk Road destinations.
Chinese provincial tourism administrations from Shanghai, Hunan, Inner Mongolia and Shandong, as well as Chinese airlines participated in the Internationale Tourismus Boerse, which ran from March 8 to March 12.Destinations in West China's Shaanxi and Xinjiang drew a lot of attention at the event, which saw around 180,000 visitors.
Although cities like Beijing, Shanghai and Guangzhou are still at the top of the China holiday destinations list, Silk Road sites like Lanzhou, Dunhuang, Xi'an are also becoming prominent, says Shi Xiang, the Frankfurt-based regional director of the China National Tourism Administration.
Meanwhile, selected travel routes along the historical Silk Road, an ancient network of trade routes connecting East and West, are offering "early explorer" experiences to visitors. There, visitors can ride horses, camels and live in tents just like the local herdsmen.
Viktoria Arneson, a 28-year-old travel expert, says the "early explorer" experiences could appeal to Western travelers as lots of them are "adventurous".
"For me, I like grand landscapes like seas, steppes and deserts. The Silk Road route has those landscapes and seems exotic," says Arneson.
For many Germans, taking a trip along the ancient trade route is even more tempting since the term Silk Road was coined by German geographer Ferdinand von Richthofen, who made seven trips to China between 1868 and 1872.
According to a preliminary report by the China National Tourism Administration, foreign travelers made more than 28 million visits to China in 2016, a year-on-year growth of 8.3 percent.