A winter refuge from the cold and smog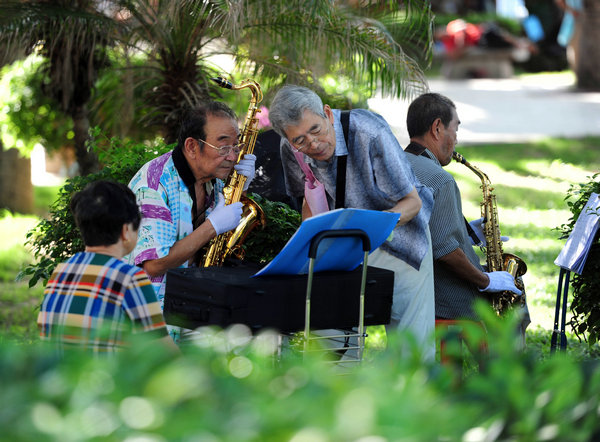 Senior vacationers enjoy the sunshine in a park in Sanya, Hainan province. [Photo by Sha Xiaofeng/provided to China Daily]
Widespread smog in many of China's northern cities is driving ever-larger crowds of winter tourists south to the island province of Hainan in search of cleaner air.
Located on the 18th parallel north, the same line of latitude as Kingston in Jamaica, Hainan's tropical climate means it is widely regarded by Chinese people as a winter paradise.
"The inroads that smog has made in northern cities have driven up air ticket prices remarkably to Haikou, capital of Hainan, and Sanya, a well-known resort at the southernmost part of the island," said an official from the Haikou city government.
"Tickets to get here are sometimes priced five times higher than tickets to leave."
In the past, tourists flocked from northern provinces and regions just to escape the bitter cold, but avoiding smog has also become a popular motive for traveling to Hainan.
"Hearing now and then on TV about heavy snowfalls in my northern hometown and the red alerts for smog in many cities, I feel lucky that my family can retreat to a place where we can 'face the sea, with spring flowers blossoming'," said retiree Lao Li, referencing a well-known poem by Chinese poet Hai Zi.
Known as the "Hawaii of China", and the nation's orchard, Hainan ranks highly among Chinese provinces for its level of ecology and clean air.
It is not uncommon for senior citizens with chronic illnesses, such as asthma or skin problems, to find their conditions have improved after spending time on the island.
The province's lush greenery, together with an ongoing program of infrastructure improvement, combine to make Hainan popular with senior vacationers-nicknamed "migratory birds" because they fly south to the island each year.