Lujia village is where bean curd and beauty offer allure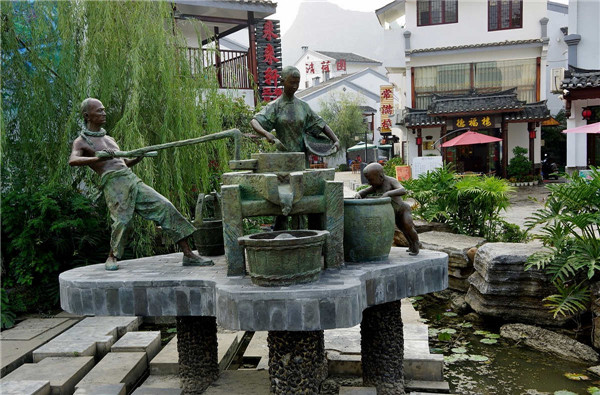 A sculpture showcases the process of making tofu in Lujia village. [Photo by Zhan Weike/China Daily]
Terrific tofu and serene scenery are mutually reinforcing appeals that propel an appetite for Lujia village as an ecotourism destination.
Both largely flow from the Taohua River.
Its water bestows the settlement of about a hundred households in the Guangxi Zhuang autonomous region's Yangshuo county with lovely landscapes and bountiful bean curd.
The pollution-free production of the handmade foodstuff ensures the waterway's purity, which, in turn, guarantees the curd's quality.
And the brook buttresses the appeal sired by the area's geology.
It's believed the water makes the tofu tasty and contributes to the residents' abnormal longevity. Lore holds washing your face with it enhances your looks.
It also supports a healthy ecosystem beyond the human dimension.
Many of the ethnic Han and Hui villagers run shops, stands and restaurants that sell over 100 snacks and dishes crafted from tofu.
The two most popular incarnations are respectively sweet and runny, or salty and deep-fried.
The soggy, saccharine kind is piled with sugar.