New agreement signed to lure more Chinese tourists to Japan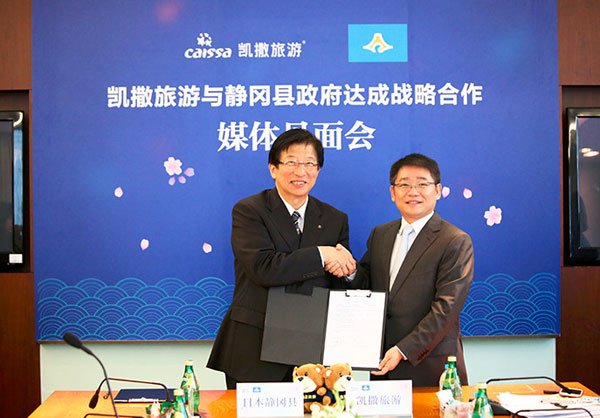 Heita Kawakatsu, governor of Japan's Shizuoka prefecture, signs a Memorandum of Understanding with the Caissa International Travel Service in Beijing, Oct 19, 2016. [Photo/chinadaily.com.cn]
Japan has become one of the most popular overseas destinations for Chinese tourists in recent years. According to statistics from the National Tourism Administration (NTA), China's outbound tourists came to 120 million in 2015. Among them, nearly 5 million visited Japan.
Chinese visitors to Japan continued growing this year, with over 4.5 million trips made as of August 2016. That number is expected to hit 7 million by the end of the year, said the NTA.
Shizuoka prefecture, about 200 kilometers west of Tokyo, is one of the top destinations for many Chinese.
To further boost tourism and exchanges with China, Heita Kawakatsu, governor of the prefecture, visited Beijing on Oct 19, and signed a Memorandum of Understanding with the Caissa International Travel Service, one of the top Chinese travel agencies, to develop outdoor traveling and other high-end tourism products.
Shizuoka prefecture is known for its beautiful cherry blossoms in spring and the 3,776-meter Mount Fuji - the highest mountain in Japan, which became a UNESCO World Heritage Site in 2013.