Maple magic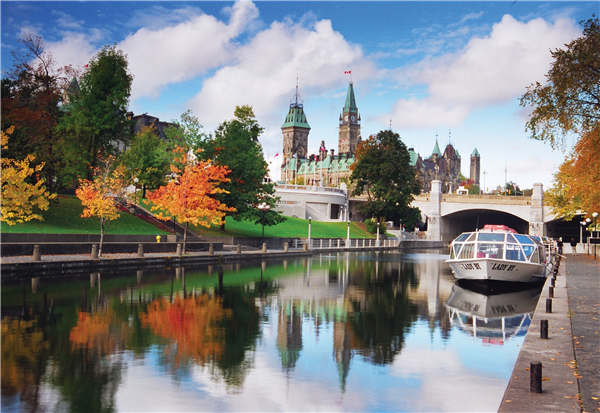 The Rideau Canal in Canada in autumn, the best season for the country to lure tourists from around the world. Photos provided to China Daily
Chinese travel to Canada is growing fast and branching out. And new flights and visa centers will likely charm even more visitors. Erik Nilsson and Yang Feiyue report.
A growing number of Chinese are discovering Canada offers much more than moose, maples and mountains.
Chinese travel to the country is surging like Niagara Falls-and seems set to flow faster, further and farther, especially following Premier Li Keqiang's recent state visit to the North American nation.
The two countries released a joint statement on Friday, calling for expanded cooperation in tourism among other areas.
That's following Prime Minister Justin Trudeau's first official visit to China last month, when both countries' leaders announced 2018 will be the Year of China-Canada Tourism.
Chinese travel to Canada increased 24 percent in the first six months of this year, making China the third-biggest source country of inbound tourists after the United States and Britain, Canada's ambassador to China, Guy Saint-Jacques, told media earlier. France previously held the No 3 spot.
More than 600,000 Chinese visited in the first three months, up 20 percent over the same period last year, Canada's tourism authority reports.
Over half a million Chinese visitors injected over $1 billion in Canada's economy in 2015, the Canada Immigration Newsletter says. It is estimates spending will rise to $1.5 billion and Chinese visitors will support 10,700 jobs by the end of 2016.