Discovering Shanxi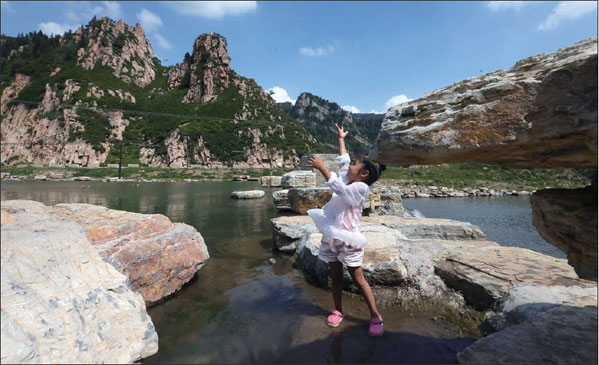 Frolicking at the source of the Fenhe River, Ningwu county. Fenhe is considered to be Shanxi's mother river, and has become a scenic area in the province, a place where tourists can enjoy the crystal clean water and gurgling stream.[Photo by Jiang Dong/China Daily]
The province still has some wonderfully undisturbed hidden delights, a foreign visitor Robert Tonkin finds.
You've seen the Great Wall, the Forbidden City and the Terracotta Warriors and, sure, they're fantastic and all that, but, you're looking for something more and feel like there's something missing.
Perhaps, like many foreigners visiting, or even living in, China, you've found yourself thinking that you know the China you're seeking, the one with a rich history and culture - but without the hordes of tourists or over-development - is out there somewhere, if you can only find it.
If this is the case, North China's Shanxi province could be the answer you seek. From an expat's perspective the journey might be a little tougher, but the rewards of taking the path less traveled are high.
The province next door, Shaanxi, likes to boast of its 3,000 years of history, but when you compare it to Shanxi's it doesn't seem so impressive.
Its main drawing cards - Pingyao and Datong - are indeed remarkable but its true beauty lies in the countryside. Its stunning scenery, traditional cave houses dotting the loess cliff faces and interesting architecture that is found almost everywhere, means there will always be something to look at as your bus snakes its way through the mountainous regions.
Luya Mountain is most likely not something you've exactly heard of, but the area packs an abundance of unique attractions that can keep you occupied for at least a few days - from the suspended coffins of the ancient elite to a temple tucked into a niche carved into a cliff. Each valley contains its own surprise, and each is vastly different from the next. And, hidden at the end of one of these valleys is the xuan kong cun, or Hanging Village.