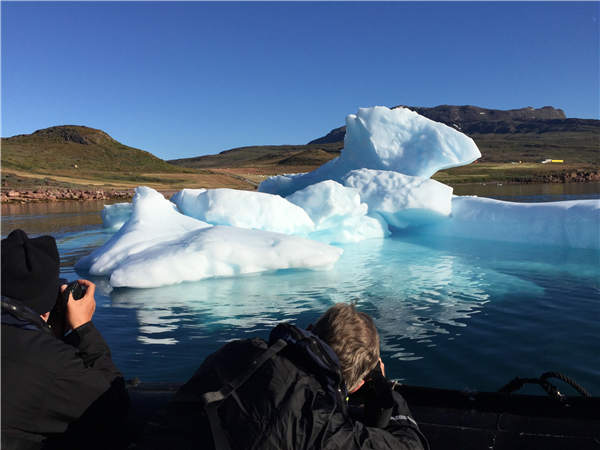 [Photo by Mike Peters/China Daily]
Glimpses of modernity come at Greenland's largest microbrewery, where you can stop in for a tasting flight of local craft beers.
You can explore urban arctic living and the progress toward Greenlandic independence on a city and parliament tour-at the latter, a surprising number of local leaders in this traditionally hunter-gatherer society are women.
If you follow current events-or seek trivia for the next pub quiz night-you should know that Greenland joined the European Economic Community with Denmark in 1973, but voted to withdraw from the EEC (later the EU) in the 1980s-years before Boris Johnson embraced the idea.
On a sweeter note, you should know that in the city's many excellent coffee shops, you will never be served a cup without a slice of cake on the side.
If you go
Silversea Cruises, known for its luxurious ships and exotic destinations, offers several adventure trips in the polar regions, include the annual nine-day Greenland voyage that departs from Reykjavik every August. Prices start from $7,350 per person, based on double occupancy in an Explorer Suite.
Longer and pricier options include the most popular choice for Chinese, an 18-day Antarctic cruise that sails from Valparaiso, Chile, promising sightings of whales, seals and penguins in a majestic natural environment. The company recently announced a collection of 246 voyages for 2017 now available for booking on the line's fleet of eight ships, which will collectively visit over 800 destinations across seven continents.
Guests enjoy ocean-view suites, gourmet cuisine, the personalized service of a butler and a generous selection of all-inclusive shipboard amenities, including complimentary beverages, wines and spirits, a stocked in-suite beverage cabinet, onboard gratuities and complimentary Wi-Fi for each guest. Details at www.silversea.com.
About this series
China Daily explores summer destinations and activities throughout the season