China key to boosting Australian visitor economy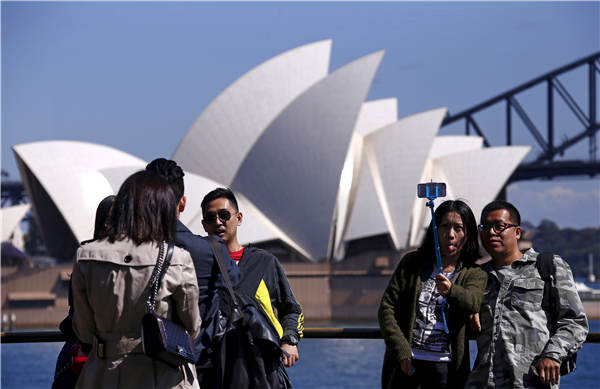 Chinese visitors take pictures of themselves as they pose in front of the Sydney Opera House in Sydney. Australia is witnessing a surging Chinese visitor market, according to Tourism Research Australia. [Photo/Agencies]
Australia's visitor economy is on track to generate A$127 billion ($97 billion) by 2020, backed by a surging Chinese visitor market, Tourism Research Australia said last week.
The latest forecasts released by TRA has seen upward revisions in domestic and international visitor numbers and expenditure over the 10-year forecast period.
TRA expects the international visitor growth rate to be 6.7 percent in 2016-17 and 5.9 percent in 2017-18. It is within the target range of $88 billion to $107 billion in overnight visitor expenditure set by the government's Tourism 2020 Strategy. By 2024-25, about 12.3 million international visitors are expected to travel to Australia each year.
According to the TRA forecast, China is expected to overtake New Zealand as Australia's largest visitor source market by 2017-18, two years earlier than previously forecast.
Of Australia's total international visitors, Chinese visitors are estimated to increase from 13 percent in 2014-15 to 26 percent by 2024-25.
"The report should be a catalyst to spur the Federal Government into action to move the visitor economy to the heart of its economic plan for the nation. Tourism is a serious economic driver, delivering jobs for Australians and wealth for the country," Tourism & Transport Forum Australia CEO Margy Osmond says.
By 2024-25, one in every four international visitors traveling to Australia will likely be from China. But with more than 200 million Chinese travelers expected to be heading overseas by 2020, Australia will still be capturing less than 1 percent of this lucrative market.
"We shouldn't be willing to settle for this result. We can do much better than this if the Federal Government is willing to back our successful industry with an economic strategy that allows the sector to reach its full potential," she says.