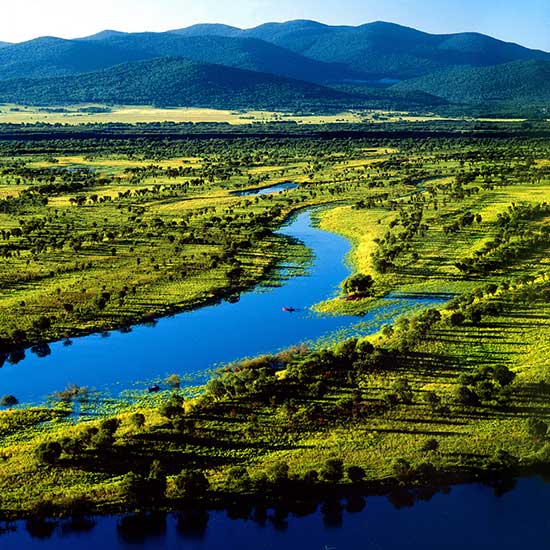 [Photo provided to China Daily]
Top 10 super swamps
Heilongjiang province named its "10 most beautiful wetlands" on June 19.
Dazhan River
The wetland sits amid the Lesser Hinggan Mountains and is one of China's biggest primitive wetlands. It hosts diverse flora and fauna, including the white-headed crane and the oriental white stork.
Harbin Songjiang
Songjiang's wetland distinguishes itself from others by integrating urban and natural landscapes. It displays Harbin's ecological diversity.
Nanwenghe
The national reserve is located in the Greater Hinggan Mountains and features inland wetlands and water-based ecosystems within coniferous forests. Plank roads, a lookout pavilion and a watchtower have been built.
Naoli River
The natural reserve hosts Qianniao Lake's wetland, which was named the most beautiful of its kind in 2012. Visitors can watch birds, pick fruit and yacht.
Sanjiang
It's an important stopover and breeding site for birds migrating from Northeast Asia. It protects the oriental white stork, whooper swan and red-crowned crane.
Wudalianchi
The place takes its name from five interconnected lakes forged by volcanic eruptions and mineral springs, famous with unlikely colors and shapes. It also offers general-aviation experiences.
Khanka Lake
The wetland in Jixi city teeters on the boundary between China and Russia. Visitors can watch fish swim and hagdon soar. A museum and a green corridor have also been built.
Zhalong
It covers 210,000 hectares southeast of Qiqihar. Asia's vastest reed swamp hosts 150 bird species. Visitors can view rare red-crowned cranes' flight trainings.
Zhenbaodao Dongfanghong
The wetland in Jixi city integrates ecological protection, scientific research, eco-tourism and education. Visitors can explore birch forests and enjoy views of the Wusuli River.
Fujin
The park 40 kilometers southwest of Fujin city is home to 290 plant varieties and over 300 animal species, including the red-crowned crane. Tens of thousands of migrating birds rest and breed there every year. The park offers water, land and air tours.
(China Daily 07/11/2016 page22)