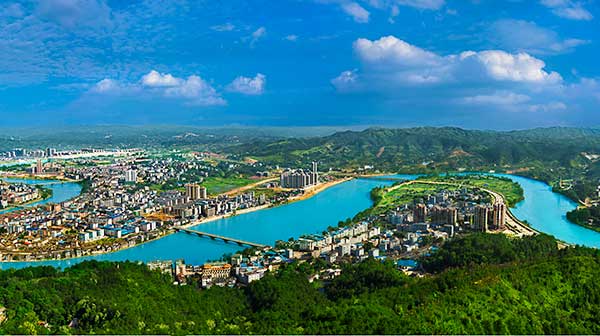 A panaromic view of Huichang county in Jiangxi province.[Photo by Li Jianping/For China Daily]
Editor's note: For many foreigners traveling in China for the first time, the country's sheer size and uneven development can be both baffling and bewildering. The world's second-largest economy boasts a per capita GDP of $8,000, yet at least 70 million people are still living in absolute poverty, earning less than the official poverty line of 2,300 yuan ($361) a year.
On the affluent east coast, boys and girls are scampering for coveted tickets to Shanghai Disneyland, which is scheduled to open in mid-June. But hundreds of miles west are broad swathes of barren mountainous areas, where some schoolchildren have to use rope ladders to scale 800-meter cliffs just to get to school. The central government wants all those living in China to at least have adequate food and clothing plus access to education, basic medical services and housing.
The money and manpower mobilized for this endeavor must precisely target those in need. Hence the vision of "taking targeted measures in poverty alleviation", as President Xi Jinping said last year. With this vision, Xi has pledged to lift all the remaining poor - 70 million - out of their plight within five years. Like many government agencies, organizations and businesses in Beijing and beyond, China Daily has also been engaged in this poverty-relief campaign over the years.
In several batches, we have sent staffers to Dongxiang county in Northwest China's Gansu province, and Huichang county in East China's Jiangxi province. These two regions are among the most vulnerable to the specter of poverty. We have helped them carry out development projects and train teachers for local schools. But most often, we've dispatched reporters, in teams of two and three, to tell the stories of the grassroots regions. These reporters spend several weeks in a county with farmers, chronicling their everyday life and how the local cadres help the residents lift themselves out of poverty. From today, we will publish a series of reports on Huichang county, a land that is rarely seen by foreigners yet abundant with untold stories.