Shanghai Disneyland vows to cut visitors' waiting hours as trial run concludes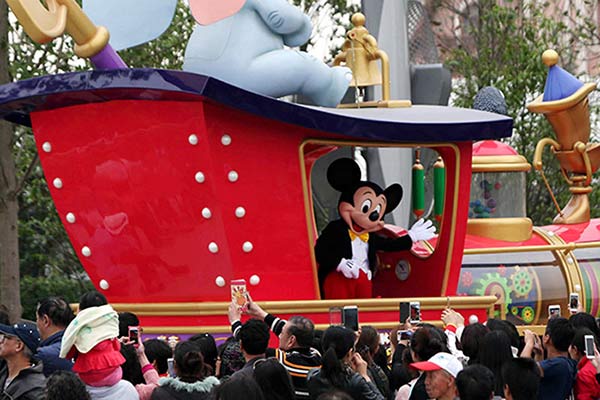 Visitors take photos during a parade at the Shanghai Disneyland. [Photo/Xinhua]
Trial operations at Shanghai Disneyland have now come to an end, with officials at the theme park saying the main challenge ahead of the official opening later this month will be to reduce the queuing times to get on rides and into venues on the site.
They also plan to increase their emergency preparedness to deal with unusual weather events such as heavy rains or heat waves.
As part of the trial operations, over 500-thousand people made their way through Shanghai Disney starting from May 7th.
One of the major issues that emerged quickly was the massive wait-times people had to endure, with some people forced to wait for 3-hours in some instances to get on to a ride.
"I will keep waiting in the line even if my legs fail me."
"I've only managed to get into one attraction through the whole morning. It's so tiring. But if I give up halfway, I know I'm going to regret it."
To help visitors save time, the park announced that it was going to issue fast passes.
However, that plan didn't work out well enough either, as only certain tourist centers that handed out the passes were open.
Bao Zhaotian is the vice President of Shanghai Disneyland.
"Most of the time our guests should be able to get here by early afternoon which is the majority of the people will arrive. They should at least get one fast pass for the day."