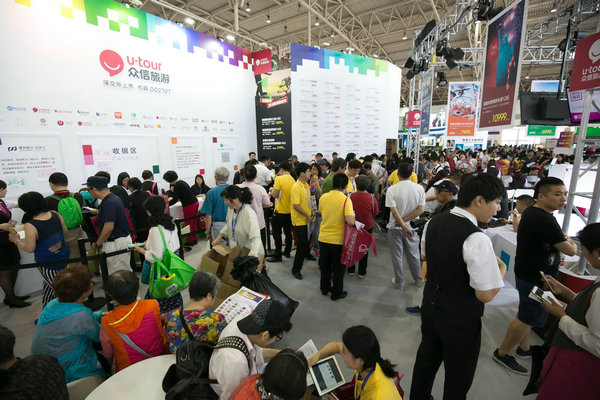 The three-day Beijing International Tourism Expo drew crowds of visitors with interests in tourism packages to popular destinations around the world.[Photo by Xu Lin/ China Daily]
Wu Min, 62, is dazzled by the shining billboards around her and soon gathers a stack of colorful brochures. They showcase tourism packages to popular destinations, ranging from the United States and France and South Africa.
It was Wu's first time at the annual Beijing International Tourism Expo. The three-day expo wrapped up on Sunday at the National Agriculture Exhibition Center.
About 1,000 exhibitors, such as tourism bureaus, travel agencies and airlines from 81 countries and regions as well as domestic destinations, participated in BITE.
It was open to industry professionals and the media on the first day and to individual travelers such as Wu on the last two days.
"I used to get information about destinations from my friends. At the expo, I could go to different booths to know about tourism products and compare prices. There were more choices than I expected," says Wu, who went to BITE with her daughter on Saturday.
According to the Beijing Municipal Commission of Tourism Development, until mid-day on May 22, domestic and international buyers did business totaling 5.9 billion yuan ($902 million), an increase of 5.4 percent over last year's expo.
Nineteen travel agencies from home and abroad provided discounted tourism packages at their booths, winning about 33,000 orders from visitors. Sales totaled about 93 million yuan, 12 percent higher than in 2015.
Wu has just retired and is planning her first overseas trip. BITE offered her information, so she can decide what kind of itinerary is suitable for her and her family.
"I always wanted to travel with my mother to show her the outside world. For the elderly, cruising seems to be a comfortable way," she says.
Like her peers, she's most interested in Russia due to her generation's affection for the former Soviet Union. She dreams of taking a walk along the Volga River and experiencing the culture at Moscow State University.
BITE focused on a combination of exhibition and sales. The exhibition content was more creative than before, with the unveiling of virtual-reality tourism, says Yu Debin, deputy director of the Beijing Municipal Commission of Tourism Development.
Visitors could experience the beautiful scenery of destinations via virtual-reality goggles in some booths. They could also watch performances from home and abroad that showcased culture and traditions.