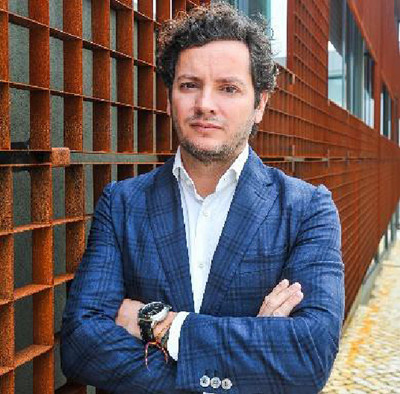 Luis Araujo hopes Portugal woos more Chinese visitors.[Photo/Courtesy of Tourism Portugal]
Chinese visitors to Portugal are its biggest spenders despite being small in number.
The president of the Mediterranean nation's tourism authority, Luis Araujo, visited China this spring to promote his homeland as a destination.
China Daily sat down with him for a Q&A about the country's plans to woo Chinese visitors.
What about Portugal attracts Chinese tourists most?
It's a safe and stable country, where tradition and modernity blend together in perfect harmony. Its superb cuisine, fine wines and hospitable people make Portugal a tourist paradise with an enviable quality-to-price ratio.
You can spend a month in Portugal and eat different food every day. A combination of different landscapes, several leisure activities and UNESCO-recognized cultural heritage make a trip to Portugal a unique experience for many Chinese tourists.
Portugal's diversity is reflected in seven famous regions with distinct experiences to offer. Porto and Norte feature Port wines and appealing views of the Douro River. The center of the county is known for its charming old towns and traditional cuisine.
Lisbon enjoys an exquisite mixture of trendy modern life, long history and cultural treasures.
Alentejo boasts Roman heritage and pure natural landscapes. Algarve is a paradise for outdoor enthusiasts, with golden sand beaches, golf and water sports.
The Azores Islands are well known for lush green volcanoes with lakes and amazing ocean resources. The Madeira Islands enjoy picturesque traditions, famous wines and breathtaking mountain and ocean views.
How many Chinese have visited the country over the years?
The number of Chinese travelers to Portugal broke all records in 2015, with 155,000 Chinese tourists, an increase by 36 percent as compared to 113,177 Chinese travelers in 2014. Chinese contributed to almost 271,200 bed nights in 2015, a 30 percent growth.
What are the most popular sites among Chinese tourists at the moment?
A majority of Chinese visit Lisbon, the capital, as a critical tour node. But Porto, which is famous for port wine, is also being discovered by Chinese travelers.
Do you have any less-known places you believe are worth recommending to Chinese?
The discovery of period monuments in Lisbon like the Belem Tower and Jeronimos Monestry; the western point of Europe, Cabo da Roca, where the land meets the sea; and Coimbra, the university city overlooking the river.
What's the visa scheme for Chinese tourists?
Portuguese authorities will soon open new visa-application centers in six cities in China, namely in Shenyang, Nanjing, Fuzhou, Wuhan, Guangzhou and Chengdu.
The visa-application centers will receive applications for Schengen visas (short-term visas with a maximum validity of 90 days per half-year) for standard passport holders.
By opening these new centers, the processing of short-term visas will be broadened and expedited ... Last year, Portugal reinforced the teams responsible for issuing visas both at the embassy of Portugal in Beijing and at the consulate-general of Portugal in Shanghai.
What measures or programs will be launched in the future to woo more Chinese tourists?
Tourism Portugal will continue to promote Portugal as a destination in China's market, to implement campaigns with local tour operators, to host workshops in China in order to create more awareness about Portugal as a tourism destination in this market. We will also continue to host familiarization trips for tour operators and media.
How about flights between China and Portugal?
At present, there is still no direct flight from China to Portugal. But you can reach our country by traveling with Emirates, Lufthansa, KLM, Air France, Turkish Airlines and British Airways. You can also visit us with Air China with a code share with TAP, Portuguese Airline.