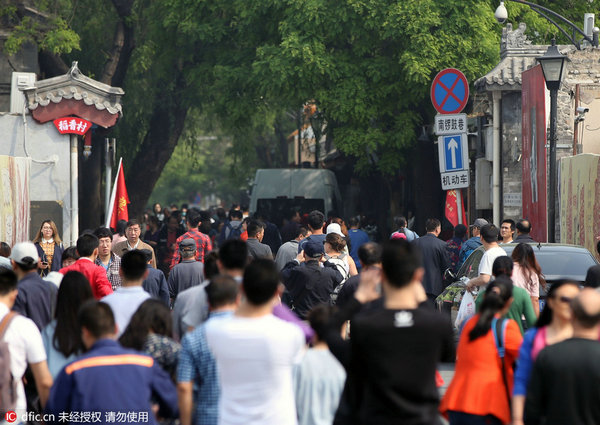 Nanluoguxiang, a well-known ancient alleyway, is visited by tens of thousands of visitors each day, far beyond its safe capacity. [Photo/IC]
A temporary regulation to ban tour groups on Beijing's Nanluoguxiang, a well-known ancient alleyway, was carried out yesterday, winning many supporters online. Yet its actual effectiveness needs to be examined.
The more-than-740-year-old alleyway became a victim of its own success, seeing over 30,000 visitors each weekday and a stunning 100,000 people during public holidays, putting much pressure on the safety of local residents and making strolling down the street an unpleasant, crowded experience.
The regulation, which restricts the daily influx of visitors, came together with the removal of the alleyway from the city's list of National AAA Grade scenic areas, aiming to protect its cultural heritage and to improve the quality of tourism and the local living environment.
The move received strong support from the public.
"This place is not what it was before. It turns out to be an ordinary commercialized street which you could easily find somewhere else. I think it's right to enforce the ban and to rebuild its cultural roots, " said Sina Weibo user Wang Yangbuhuibulao.
"Please give me back my Beijing Hutong (alleyway) . Please give back my childhood memories, " said another user called Zui Dabuhaopu who agreed with the regulation.
Since April 25 when the regulation was put into practice, the number of visitors saw a noticeable drop compared with previous weekdays. However, the effectiveness of the ban is still somehow below expectations, due to a lack of legislation and loopholes in the restrictions.
According to reports by CNR (China National Radio), some tour groups, organized by travel agencies, were still guided to the site and dismissed at the entrance before they all walked into the alleyways as individual visitors. The ban on 'tour groups' put little restriction on them.
Meanwhile, the regulation was not applied on a legal basis, thus the enforcement is limited. Security personnel are paid to patrol the area around the clock to ensure the safety of residents and tourists and to ensure that no tour buses park at the entrance.
"We will see how things go for a few days first before we plan the next step," said an official from the local tourism committee.
Chinese tourism expert Liu Simin commented that the regulation is reasonable and necessary, both for the development and protection of the historical site, and for public safety.
"However, the restriction should be enforced equally for both tour groups and for individual visitors," Liu stressed.