It's one hell of a ride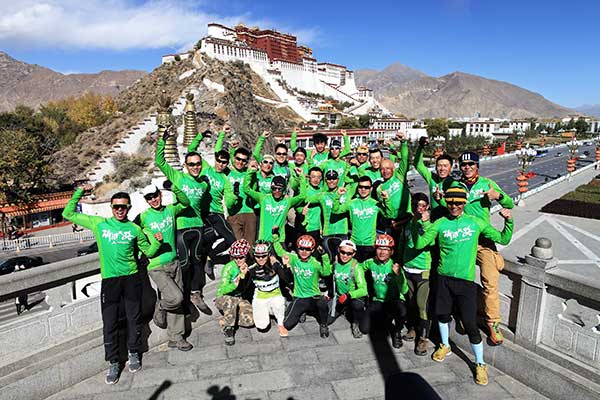 Riders for the 2015 cycling event pose before the Potala Palace in Lhasa, the Tibet autonomous region.[Photo provided to China Daily]
Wang Yongjian, 35, one of 31 cyclists who were chosen to take up the demanding ride called the Tibet Challenge last year, almost did not make it. But having got through, he is ready to go again. Yang Feiyue reports.
It is a route that has seen the blood, sweat and tears of many cyclists.
Wang Yongjian, 35, went through hell during a 10-day bicycling trip from Sichuan province's Kangding to the Tibet autonomous region in October 2015.
"It snowed heavily on the first day of the ride," says Wang.
"The road conditions on the second day were horrible."
Wang who had high fever during the ride, felt he was close to dying as his body temperature dropped. To make matters worse, he was also chased by dogs.
Yet, despite the trials, the reward was completing the ride.
Wang was one of 31 cyclists who were chosen to do the demanding ride called the Tibet Challenge.
The riders cycled approximately 2,000 km at altitudes of 4,000 meters above sea level, and rode up and down 16 snow-capped mountains.
During the course of the ride, they were on their bikes for around 13 hours daily.
The event is held to let people test their limits, says Letour Sports in Guangdong province's Guangzhou, the organizer of the event.
While more than 500 people wanted to take part in the ride last year, only 31 passed muster.
The Sichuan-Tibet route features dramatic and breathtaking landscape, says Cheng Wei, media director of the event.
"Some parts of the route are tortuous, some are steep, some straight and some are shrouded in mist," says Cheng.
The cyclists experience rain, snow, hail, frost, wind and the blazing sun almost every day.
"You can feel the four seasons in a day," she says.