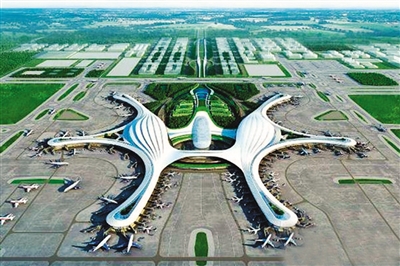 The file photo shows the blueprint of the Chengdu Tianfu International Airport. [File photo]
It's being reported that construction of the largest aiport in West China is going to start after getting approval from the National Development and Reform Commission.
Chengdu Tianfu International Airport has a total investment of some 71.8 billion yuan or around 11 billion U.S. dollars.
Located in Jianyang city in Southwest China's Sichuan province, the new airport will be just over 50 kilometers away from the provincial capital Chengdu.
Once completed, the airport will have six runways and a terminal building covering 1.26 million square meters, which is more than twice the size of Chengdu Shuangliu International Airport.
The new airport is expected to accommodate 90 million passengers each year.