The gorgeous gorges on Yangtze River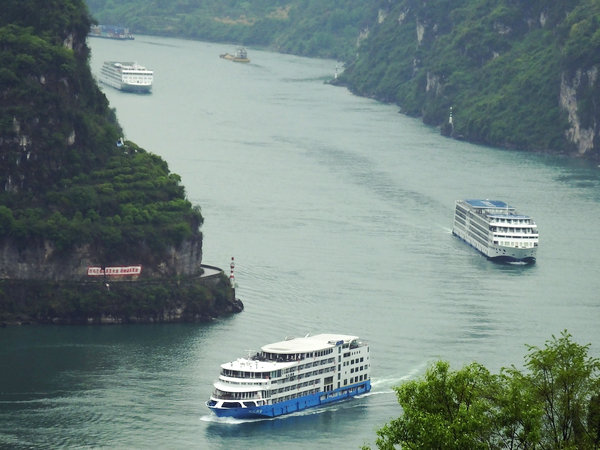 Cruise boats travel along the Three Gorges on the Yangtze River. [Photo by Liu Junfeng, Xiong Bin and Zhu Xiyong/China Daily]
New Yorker Faith Ann Birnstein visited the Three Gorges twice-before and after the dam was completed in 2006.
She has fond memories of the beautiful valleys and ancient towns along the Yangtze River.
"My favorite scenic spot was in the Little Three Gorges. It was peaceful and seemed so much like traditional China to me as a foreigner," she says, recalling her first trip in 2005.
"I especially was interested in the songs that were sung by the lovers across the canyons. It was so beautiful."
Birnstein, who has worked as a university instructor in Chongqing for nearly 12 years, hopped on a cruise with a cultural exchange group during her 2009 trip.
"I especially enjoyed seeing the amazing dam. I had read so much about it. It truly was a wonder."
As China's longest watercourse and the planet's third longest, the Yangtze is renowned for its long, rich history and beautiful scenery. It attracts millions of tourists from home and abroad every year.
The Three Gorges-Qutang, Wu and Xiling-span about 120 kilometers on the river from Chongqing's Fengjie county to Hubei province's Yichang.
Qing Dynasty (1644-1911) emperors frequently boarded wooden ships to inspect their territory.
Since the Three Gorges Dam-the world's largest hydroelectric project-began operations, the water level has risen, making the river wider and mountains appear lower.
Some ancient temples that were to be flooded were relocated. Some scenic spots became more accessible, and river cruises became popular.
To cope with the changes, Beijing in 2004 drafted the Regional Tourism Development Master Plan of The Three Gorges, China's first national plan for regional tourism development.