Springtime means boating at Beijing's Shichahai lake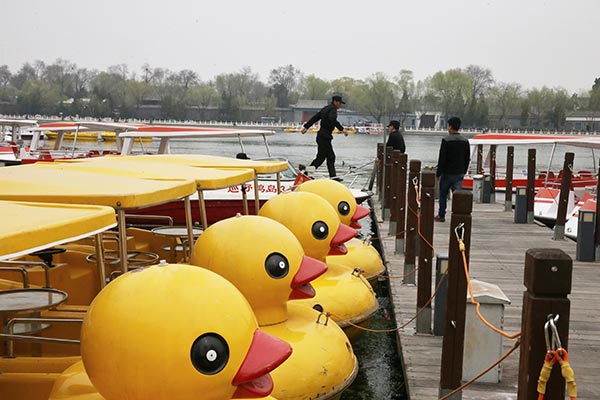 Shichahai's lake. [Photo by Jiang Dong/China Daily]
Tourists can go boating around Shichahai's lake in Beijing now.
A total of 185 boats are offered to the public this year, and there are an additional 17 yellow duck-shaped boats for children.
Life buoys and life jackets are all in place to ensure safety.
Costs will be the same as before (about 100 yuan, $15), says Qu Xisheng, head of the island.
All boats have had cup holders installed for the convenience of tourists this year.
"Installing cup holders serves tourists better and protects the water environment," Qu says, adding that many people had accidentally dropped their water bottles overboard and workers had to fish them out.
A woman surnamed Zhang says she has taken her child here every year and the yellow duck boat has been the favorite of the youngster.