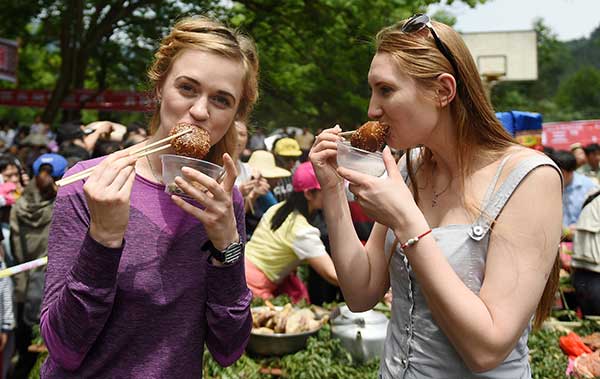 Two visitors from Russia taste local snacks in Rongshui, Guangxi Zhuang autonomous region.[Photo/Xinhua]
After four years of decline, there was a huge increase in the number of Russian tourists visiting China in January, new figures show.
In total, 144,200 Russians visited in the first month of 2016 - up 46.9 percent on the same period last year, according to a recent report released by the China Tourism Academy, a think tank under the China National Tourism Administration.
Russia is the fifth-largest source market for China's tourism industry after the United States, Vietnam, Japan and South Korea, but over the past few years a weak ruble has dampened Russians' enthusiasm for travel abroad.
Last year alone, the number of Russian tourists in China was down 22.7 percent year-on-year, according to the report
Xu Xiaolei, a spokesman for China Youth Travel Service, said the growth in Russian tourists this winter was not surprising, but it was still too early to predict a trend for the rest of the year.
"Many Russian tourists chose to spend the bitter winter in warm Hainan province. And to avoid the peak season of Chinese New Year, many booked their trips to China in January," Xu said. "Tourism watchdogs have also been tightening the regulation of Hainan's tourism products. Compared with the sky-high hotel prices last year, prices in Hainan are relatively low this year. This has also helped to attract more Russian tourists."