Around the world, in a year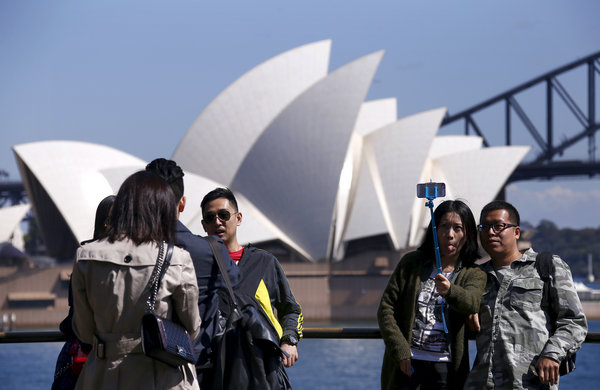 Chinese tourists take pictures of themselves standing in front of the Sydney Opera House in Australia.[Photo/ Agencies]
China's outbound tourism took off in 2015. Yang Feiyue and Li Jing review the trends and developments.
Overseas travel exploded like a roman candle in 2015.
The number of outbound Chinese travelers is expected to surpass 120 million by the New Year, 16 percent more than in 2014.
Relaxed policies for Chinese seeking visas, a stronger yuan and air routes' expansion steered more Chinese abroad in 2015 than in any year prior-for the fourth consecutive year.
(The country became the No 1 source of outbound tourists in 2012, the United Nations' World Tourism Organization reports.)
Rising disposable incomes plus mounting life and work pressures are also impelling outbound tourism, UK-headquartered market-analysis company Euromonitor International says.
About 50 countries and regions have waived visas or relaxed requirements for Chinese.
And the United States, South Korea and Japan extended the validity of multiple-entry visas for Chinese this year.
Countries like Australia and the United Kingdom are expected to follow in 2016.
Beijinger Zhang Haoran visited South Korea's Jeju and Indonesia's Bali this year.
He says he chose those islands because they don't require visas.
Zhang is currently deciding between Greece and Turkey for his Spring Festival trip abroad.
"You have to book early to save money," he says.