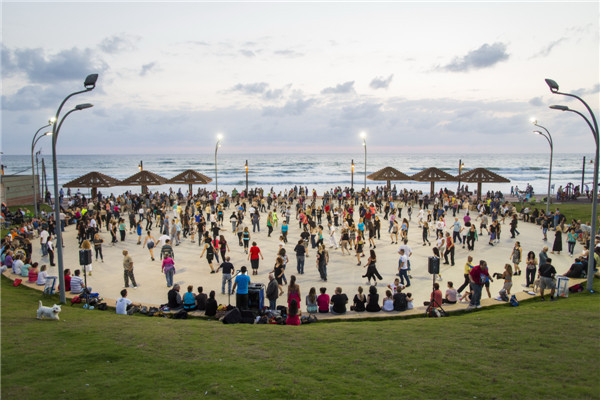 Folk dancing on the shore at Haifa, the largest city in northern Israel; folk dances are very popular in Israel. [Photo provided to China Daily]
A cradle of religions, Israel has started drawing an increasing number of Chinese tourists to savor its history and modern vibe.
The number of Chinese tourists visiting Israel topped 25,000 in the first seven months of 2015, up nearly 30 percent year on year.
The total number for the whole of last year exceeded 30,000.
"We've seen a rise in the number of Chinese tourists visiting Israel since the beginning of this year," says Zhang Luoxi, media officer with Beijing Utour International Travel Service Co.
Experienced Chinese travelers are seeking places a bit off the beaten track as they've already seen a lot of the US and major European countries, says Zhang, adding that Turkey and Austria are also getting more attention.
So far, 80 percent of the travel agency's December trips have been booked. The cost is around 17,800-19,800 yuan ($2,781-$3,094).
The travel agency is now receiving support from Israeli airline El Al and plans to send 100 Chinese tourists to the country in March.
The move is part of the efforts to get more Chinese to experience what the country has to offer, says Utour.
Its eight-day trip to Israel-or to Israel and Jordan, both departing on March 3-will focus on local culture and cover tourism sites, including the Wailing Wall and the Dead Sea.
Both tours will be 5,000 yuan cheaper than the ones on offer now, thanks to cheaper airfares offered by El Al.
Tourists on the March tours will also experience the specially arranged Festival of Light, featuring illumination of architecture and the artistic and dramatic use of light in the old city of Jerusalem that is specially arranged for them, the travel agency says.
The annual event typically takes place in June and draws around 250,000 visitors to the old city.
Jonathan Bental, chief representative of the Israel Tourism Authority in China, says that though Israel receives lots of tourists from around the world, Chinese tourists are not a big part of the numbers so far. But they are a fast-growing group.
As of now, the top three groups of visitors are the Americans, the Europeans and the Russians.
"The growth in the number of Chinese tourists has given us confidence and will also make us pay more attention to the Chinese market," says Bental.
The country has also been training Chinese-speaking tour guides, and local hotels are beginning to offer services tailored to the Chinese, he says.