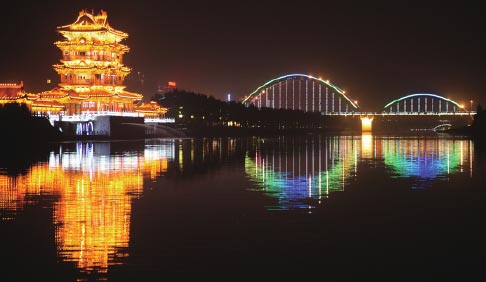 An electric boat ride in the park on the Fen River at night is romantic. [Photo by Reinhard Klette/China Daily]
I was delighted to be chosen by China Daily to return to Shanxi Province as a participant in the "Shanxi in the eyes of foreigners" program. It was a real eye-opener to say the least. China has been developing at breakneck speed, and places I had visited only a few years ago were unrecognizable because of the fast growth curve. The coal dust I remembered blowin' in the wind and on the streets was nowhere to be found.
We think of Shanxi as a province known for coal mines and fabulously rich and obnoxiously gauche mine owners, a la the Beverly Hillbillies of my long-ago youth. This, however, is not at all the real Shanxi.
The place that impressed me the most was a first-time visit to Linfen city in southwestern Shanxi. A perceptive marketing guru might rename Linfen as Phoenix City because it has begun its rise out of the coal dust and ash back to its former glory.
Before 1978, Linfen was quite famous for its agriculture, spring water and lush greenery. However, with unchecked coal mining, it became one of the most polluted urban areas on the planet. While still not out of the woods, under enlightened leadership, mine closures and with an abundant budget, Linfen is clawing its way back from a city blackened with coal dust toward a green 21st-century metropolis.
To be honest, I'd never heard of Linfen before this trip. China has scores of cities with populations of over 1 million that 99 percent of foreigners have never heard of, even those who have lived in China for more than a decade like myself. Linfen's population of nearly 4.5 million is more than the population of any US city except New York. And Linfen is vast: 20,275 kilometers.