With beautiful scenery, ancient Wuyuan sends visitors back in time
By Xiao Xiangyi in Beijing and Shi Xiaofeng inWuyuan, Jiangxi province | China Daily | Updated: 2015-10-05 10:29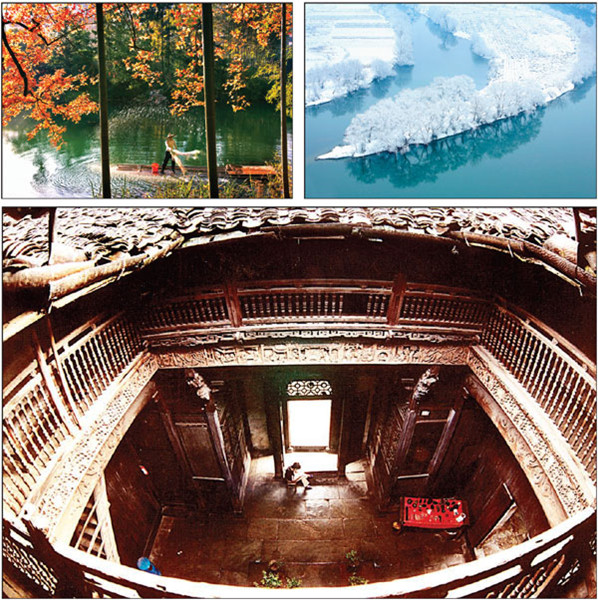 Scenes from Wuyuan (Clockwise): a local forest beside a stream, the moon-shaped bay, and a century-old house. Left: Zhang Yinquan, right: Hu Weimin, below: Ren Chuncai, For China Daily
Travelers today are apt to look for tranquil places that are less commercialized and more isolated. One way to avoid a clamorous crowd is to choose a destination that keeps a low profile and head there after the peak season.
Wuyuan county, with its ancient towns and villages in Jiangxi province, is ideal for such exploration in autumn and winter. In the spring, tourists flock to see the profusion of bright yellow rapeseed flowers across terraced hills, but fall provides its own color in a riot of red-leafed maple trees against a backdrop of pebbled streets and black-tiled roofs.
The region's mountainous terrain, once a barrier for easy travel, helped preserve its bygone charms. Now the glimpses into the past - the wooden arches, stone bridges and maze of winding streets - are easily accessible by highspeed rail from Beijing (eight hours) or Shanghai (four hours).
For those with an interest in ancient Chinese architecture, Wuyuan offers a beautifully preserved slice of life. Residential houses are built in the authentic Hui style, with white walls and black roof tiles. Some even offer bed-and-breakfast accommodations for visitors. Courtyards feature delicate and intricate wood sculptures on the pillars, doors and corridors. The area abounds in temples, bridges and arches, many more than 1,000 years old.
To preserve the ancient architecture, forest and culture, the county government has eschewed development, including proposed resorts that would have resulted in billions of yuan in investment. Leaders say they prefer to maintain a harmonious relationship with nature, and seek to shape the area into a natural cultural park.