Precarious yet peaceful pavilions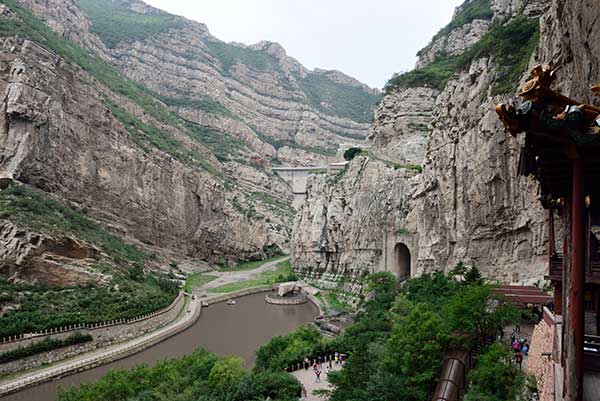 The Hanging Monastery is located in the north of Shanxi province, about 65 kilometers from the old capital city of Datong[Photo by Aron Deepankar/For chinadaily.com.cn]
Everything was proceeding perfectly as planned. We were in perfect company — people from all parts of world in a group filled with fun and laughter. I was moving from one pavilion of the temple to another on the staircase. Suddenly, it hit me, giving me goose bumps as an uncanny feeling pervaded my being.
For we were climbing down a ladder suspended in the air, 50 meters above the ground on a steep mountain cliff, with one step fastened to another with iron plates and bolts. What if the bolts gave way or if there was a stampede, I wondered.
My photographer friend, Isidoro Ramirez Cebador, a well-built, sturdy-looking Spanish gentleman, later confided that he had been scared also, but he came away smiling, like all of us. It's not a surprise then that the Hanging Monastery on Hengshan Mountain, called Xuankong Si in Chinese (si meaning temple), was listed by Times magazine in 2010 as one of the "Top 10 Precarious Buildings".
Located in the north of Shanxi province, about 65 kilometers from the old capital city of Datong, the monastery has been clinging to the cliff for an incredible 1,500 years, and has borne witness to the flourishing trade between the Mongols, Manchus and Chinese, blending the influences of Buddhism, Taoism and Confucianism in its 80-odd statues which cover all three belief systems to cater to the spiritual needs of all the traders, military personnel and general public passing by.