Traveling on a budget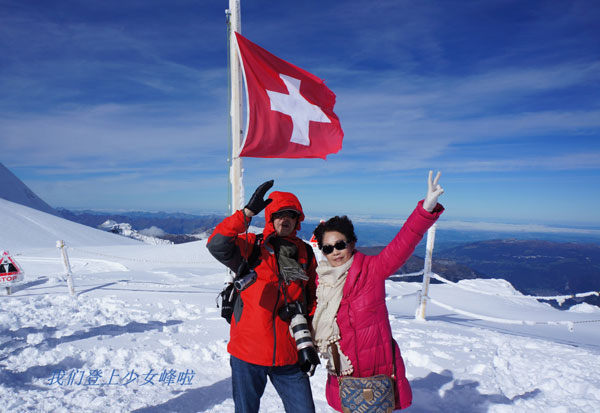 Chinese tourists Shi Yinkai (left) and Fu Jianmin visited Switzerland on a low budget.[Photo provided to China Daily]
Cao Kexing, 26, managed to snatch up a bargain trip from Guangzhou to Cambodia in June.
"The whole trip costs less than a one-way airplane ticket if I booked it myself," he says.
The five-day trip from Guangzhou to Cambodia offered by online travel agency Fxtrip only costs 1,999 yuan ($322), while round-trip flights alone cost more than 2,500 yuan on popular mainstream websites, such as Qunar.com and Booking.com.
The company's June trip to Cambodia is already sold out. Other low-budget travel products to popular foreign destinations, including Switzerland and Paris, are up for grabs at 3pm every Wednesday.
Usually, all products will be snatched up in less than an hour, says Sun Xiaoli, a senior marketing manager with the company.
The hunger marketing method is being used by Fxtrip. The company offers fewer than 10 outbound tourism products year round. However, the single-digit number of products doesn't stop the company's popularity among individual travelers.
Individual travelers are most sensitive to cost, according to a report issued by China's biggest online travel agency Ctrip on May 7. The report was based on a survey of 4,000 tourists.
At the moment, four-day trips from Shanghai or Shandong province's Qingdao to Seoul are priced at 1,999 yuan at Fxtrip's website. Prices vary with departure cities. Six-day trips from Guangzhou to Bali cost roughly 4,000 yuan, while the five-day trip from Guangzhou to Singapore costs 2,999 yuan.
Competitive pricing is the first strategy the company used to lure travelers.
"What we do differently is to create a high-quality itinerary at a low budget," Fxtrip's founder Wang Zhenhua says.
Many people don't choose individual travel plans because they think it's more expensive in comparison with group travel, Wang explains.
"We streamline business links to save costs," he says.
In addition to competitive pricing, the company's butler's service acts as another draw for individual travelers. Ctrip's report says that individual travelers, especially those to foreign countries, put a premium on aftersales services when they reach their destinations.
Fxtrip has developed a 7/24 coordinator system, where tourists can communicate with online coordinators whenever they meet with difficulties.
Guo Mengshu, a Fxtrip coordinator manager, says many of their customers will encounter emergencies such as losing their phones or passports. Other will simply want to ask where to find the best restaurant.
"I may receive about 200 messages a day from tourists through the company's WeChat account," Guo says. "Each message has to be answered in good time."
Guo has translated foreign menus for tourists and pointed them toward major tourism attractions. She has to monitor the company's WeChat account and phone calls 12 hours a day. There are now eight coordinators at Fxtrip.
The company number for individual travelers are increasing rapidly, especially those between 25 and 40, according to Fxtrip.
"Young tourists do not want to waste time on tickets, flights and strategies. They travel solely for enjoyment," Wang explains. He says Fxtrip offers a way to save them much trouble.
The online agency offers tourists premium service from pickup services to tour guidance. Tourists can get the company's self-made brochures filled with travel tips 15 days before departure so they can be well acquainted with local conditions in advance.
Fxtrip has strictly selected tourism products and ensures that each of them is vetted by the company personnel, Wang claims.
The company has gone to great lengths to find quality but low-budget hotels for customers.
"Individual travelers consider accommodation a crucial factor. They prefer four or five-star hotels," Wang says.
Lu Anqi, a traveler from Guangdong province, has booked two tours with Fxtrip. She has visited more than 10 countries, she claims.
"I think Fxtrip's price and service are the best," she says.
"They have already considered everything before and after. All I need to do is to pack my bags and wait for my journey to begin."