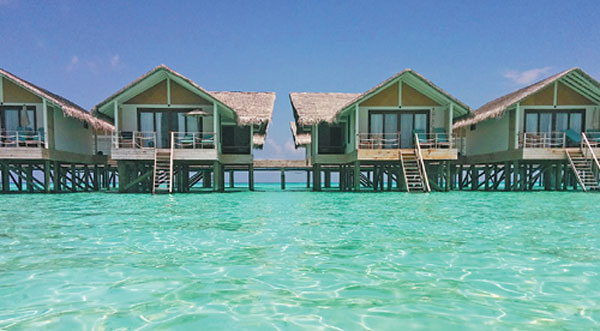 The sunset view ocean villas overlook a stunning sandbar and are the best choice of accommodation at Loama Resort on Maamigili Island. [Photo by Matt Hodges/China Daily]
Chinese treasure unearthed from a small but perfectly formed resort island in the "final frontier" of the Maldives hearkens back to old trading routes from Southeast China to East Africa and the Persian Gulf that date back 2,000 years.
Chinese merchants had been sailing the same seas for centuries before the expeditions of mariner Zheng He (1371-1433) took place — expeditions that, later, became the stuff of legend after they were widely publicized at the turn of the 20th century.
Ancient stone tablets commemorating the visits of He, a fleet admiral under the early Ming Dynasty (1368-1644), were discovered on Sri Lanka, the capital of which, Colombo, lies just 766 kilometers northeast of the Maldivian capital, Male.
Now ancient relics that were probably plundered from Chinese vessels by Dutch pirates in the 17th century are turning up in the most unexpected places, as luxury resorts dig into virgin territory in the outermost reaches of the Maldives, where Chinese tourists make up almost one-third of the market.
"We think it may have been Dutch pirates, but we're still doing some guesswork in that area," said Umair Badheeu, culture and heritage manager at newly opened Loama Resort, which has Maamigili Island in remote Raa Atoll all to itself.
Chinese, excluding travelers from Taiwan province, made up 30.2 percent of the 1.2 million tourists who visited the Maldives last year, up 9.6 percent from 2013. No one else even came close. Germans were second (8.2 percent) and Brits third.