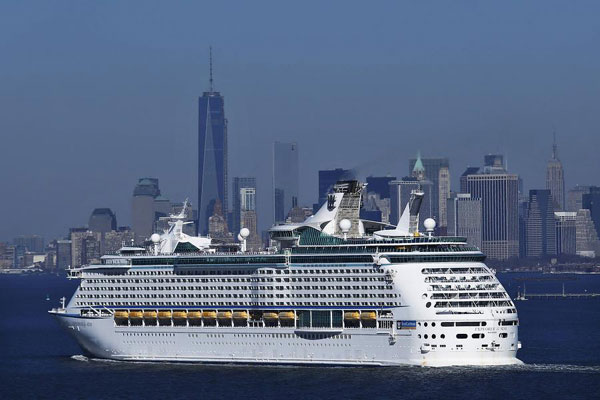 The New York skyline is seen in a distance as Royal Caribbean's Explorer of the Seas enters New York harbour Jan 29, 2014. [Photo/Agencies]
Cruises are hugely popular among Americans, who make up half of the global market since this form of travel became popular in the early 1980s, but they are only just starting to take off in China.
Less than 1 percent of Chinese outbound travelers choose this kind of vacation compared with 2 to 3 percent in North America and Europe.
Of the 114 million outbound trips made by Chinese last year, 739,600 decided to sail. Industry pundits expect the number will hit a cool 1 million this year, while the Ministry of Transport predicts a jump to 4.5 million cruises booked by 2020.
Even though Shanghai is one of five home ports for cruise liners in China, it accounts for over 60 percent of all the trips made, according to online travel agency Ctrip.com.
The other ports are in Tianjin, Qingdao in Shandong province, Fujian's Xiamen and Zhoushan of Zhejiang.
Chinese travelers prefer to stay close to home when making their first overseas trip so the domestic cruise industry will see an initial jump in voyages to South Korea and Japan, said Cheng Juehao, a professor at Shanghai Maritime University who specializes in studying cruises. Major international operators have noted the trend and are steadily increasing their investments to further tap the China market, he said.
After operating in the country for almost a decade, Costa decided to launch longer and more creative products this year, including six- to 10-day trips to South Korea and Japan and a special around-the-world program.
Royal Caribbean International also launched its fifth ocean liner in the region last month, giving it the largest fleet deployment for any cruise operator in China, according to CEO Michael Bayley.
It now has home ports in four Chinese metropolises - Shanghai, Tianjin, Hong Kong and Xiamen - and will focus on three- to 12-night itineraries to Japan, South Korea and Vietnam, he said.
The operator has seen growth double each year since it established its first home port in China in 2010, Bayley said, adding that passenger traffic this year is likely to hover around a quarter of a million people.
Princess Cruises is also offering longer options and plans to expand its operating season in Shanghai this year before moving on to Tianjin, it said.
"Once travelers get the bug, they realize that four or five days aren't long enough," said Wang Ping, Princess Cruises' country director for China.
The company is now offering an 11-day trip from Shanghai to Japan that takes in popular destinations such as Tokyo, Yokohama, Kobe and Jeju Island in South Korea.
The number of people from China opting to travel on cruise liners grew at an average rate of 79 percent between 2012 and 2014. The 697,000 trips made by tourists from the mainland in 2014 almost matched those from the rest of Asia (701,000), according to research by the Cruise Line International Association.
With 10 million of its nationals taking cruises each year, the US now ranks as the world's biggest market worth about $40 billion, according to Cheng.
China is on course to overtake the UK as the No 2 market by 2020, when the Middle Kingdom will have three world-class home ports, he added. Last year, 1.8 million people in the UK booked cruises overseas.
"It is just a matter of time before China surpasses the US, too," Cheng said.
In the near future, this emerging industry will require huge capital, technologies, service and talented personnel, thus triggering huge business opportunities, according to a representative of Ctrip.com.
Li Xueqing in Shanghai contributed to this story.