China calling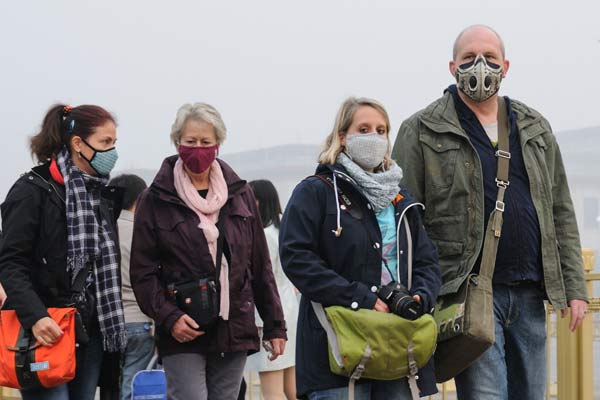 Foreign tourists wear masks during a smoggy day in Beijing. Photos provided to China Daily
Asian giant gears up to pull out all stops to halt the fall in inbound tourism, Yang Feiyue reports.
China will step up efforts to reverse the decline in the number of inbound tourists.
A total of 33,500 modern public restrooms will be built nationwide covering scenic spots, transportation hubs and entertainment facilities in the next three years, as part of the country's efforts to improve tourism infrastructure.
A well-developed high-speed rail system across Central China and the country's western areas will likely be developed in the future, with rail links - between cities such as Xuzhou and Lanzhou, and those connecting Shanghai and Kunming - expected to be operationalized this year, officials say.
Analysts also suggest the beefing up of online content related to China's tourism since most international travelers these days only seek travel information on the web.
"We should pay attention to social networking software, use languages that suit international tourists and upgrade China's tourism image in a systematic and long-term manner," Zhu Hua, director general of the Fujian tourism bureau, said at the fourth China Tourism Industry Conference held in eastern China's Nanchang city, Jiangxi province, on Jan 13-14.
She says the country should build large-scale travel cooperation, exchange, information and financing platforms and integrate resources nationwide to boost the country's tourism. A think tank for the sector was also launched at the conference, with the aim of halting the fall in inbound tourism.
A joint effort between the National Public Opinion Poll Lab of the Chinese Academy of Social Sciences and the Beijing-based paper China Travel News, the new think tank will probe the deep-rooted reasons behind the decline in China's inbound tourism and make recommendations to solve the problems, says Liu Zhiming, chief analyst for the National Public Opinion Poll Lab.