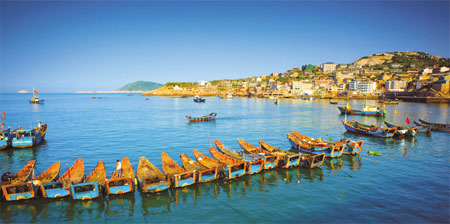 Boats settled down at Dongji island, one of the most popular tourism destinations in Putuo district. [Photo Provided to China Daily]
Region boasts stunning scenery, mountains, beaches and more
In the easternmost part of Zhejiang province there is an archipelago district formed of 455 islands. Putuo district, part of Zhoushan city, boasts breathtaking scenery that attracts millions of tourists every year.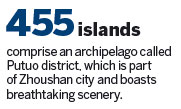 Weather in Putuo is humid year round with clear air that ranked second best in the Chinese mainland in the first half of this year. When residents in North China suffer from smog and haze they often go to Putuo to escape the pollution.
Embraced by the East China Sea, Putuo represents a variety of aspects of China's sea culture. It is home to Putuo Mountain, the country's largest worshiping area to Kwan-yin, also known as Guanyin Bodhisattva. Zhujiajian is known as the cradle of sand-sculpting in China and Shenjiamen fishery port offers people the chance to taste hundreds of varieties of seafood. Also, the area's 455 islands showcase hundreds of different types of scenery.
Of all the attractions, Putuo Mountain is the most well known. It is one of the four sacred Buddhism mountains in China and has welcomed visitors for thousands of years. History records showed that the earliest worshipers came to Putuo in the Qin Dynasty (221-206 BC). Today, Buddhists from regions including Shanghai, Taiwan, Hong Kong, Malaysia and the Philippines come to the mountain to wish for blessings from Kwan-yin.
There are three temples and more than 20 tourism sites in the mountain area, all related to Buddhism culture. The mountain is located on a 12.5 sq km island with views of the ocean, temples, cliffs, caves and sandy shores. The island is regarded as one of the most peaceful places in China.