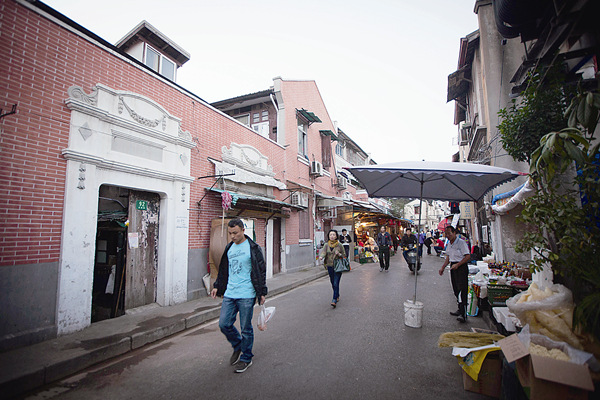 The area is where the city of Shanghai was first built. [Photo by Gao Erqiang/Shanghai Star]
The twisted streets of the old city have many hidden treasures and a wealth of history. Zhou Wenting goes exploring.
Make a right turn on bustling South Xizang Road, and you will feel like you have stepped back in time, to the kind of community that has almost disappeared from modern Shanghai.
The streets are so narrow that even two cars can cause traffic paralysis. Old two- and three-story residential buildings line both sides of the street and are shaded by crooked plane trees. Even the clothes worn by passers-by seem a little outdated.
This is Shanghai old town, with a history of more than 700 years. It is a circular area of 2 square km in Huangpu district, on the west bank of the Huangpu River.
People may call Shanghai "the magic city" with its breathtaking and ever-changing skyline in Lujiazui Financial District, but the other Shanghai, the one where you will hear the creak of an old bamboo deckchair, is fast fading away.
This is the place where Shanghai first took shape in 1291 during the Yuan Dynasty (1279-1368) and an 8-meter-high rampart around the area was established in 1553 to defend it from foreign pirates. The area inside the walls was called "the city".
There were altogether 10 gates around the "city" but most of them were torn down early last century for urban construction and only the names, such as Laoximen  and Xiaonanmen, remain. The walls were also destroyed, with Renmin Road and Zhonghua Road, marking the place where the circular walls once stood.
Apart from the renowned Yu Garden, there are many things worth observing inside the streets that once was all of Shanghai.