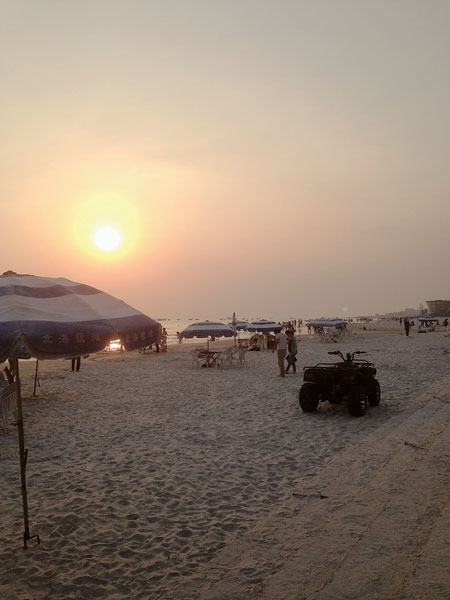 The famous Silver Beach is where families come to enjoy nature's bounty of fine sand and clear water. [Photo by Pauline D. Loh/Shanghai Star]
There are few places left in China that are truly away from the madding crowds. Pauline D. Loh discovers the tranquility of a coastal city in the Guangxi Zhuang autonomous region.
The beaches form a fine fringe edging the rather rotund Beihai peninsula. Where the sands stop, the mangrove wetlands take over. Seen from a distance, they seem to merge imperceptibly with sugarcane plantations and rice paddies, the main agricultural activities here.
Beihai is one of the most southern coastal cities on the Chinese mainland and has been marked for development since the first phases of the open economy in the 1980s.
Fortunately, or unfortunately, depending on how you look at it, growth has been slow and while the roads are wide and building developments proliferate, it is still a quiet seaside town where the inhabitants enjoy a Slow City lifestyle. Even new residential projects seem targeted at recent retirees from Beijing and Shanghai.
Slow City? Beihai already has much of what many other cities can only aspire to have.
Its environment is relatively unpolluted, and clear skies under a bright blue canopy mean "haze" is not in the public lexicon. The weather is blessed by mild winters and hot summers moderated by cooling sea breezes.
In the banyan-tree lined streets, bevies of pretty electric scooters glide silently about, their owners ranging from elderly uncles in lightweight t-shirts to the neatly coutured young zipping about on their daily business. It's all very eco-friendly.
Our guide pointed out the toppled treetops of the coastal casuarinas, victims of a direct hit from two consecutive typhoons. These turbulences are rare enough that they are still talking about it months later.
Beihai is not a city that has an overwhelming choice of tourist attractions. There are few.
The visitor is invited instead to enjoy the natural scenery, to stroll through the Old Town, or spend a day lazing at fine-grained Silver Beach, where you can still pick clams at the water's edge.
For the more adventurous, there is always the "youngest volcanic island" in China - Weizhou Island. Lava formations and fossilized corals are major geographical attractions, and visitors can camp overnight on the island after exploring its rugged coasts.