Driving tourism in Canada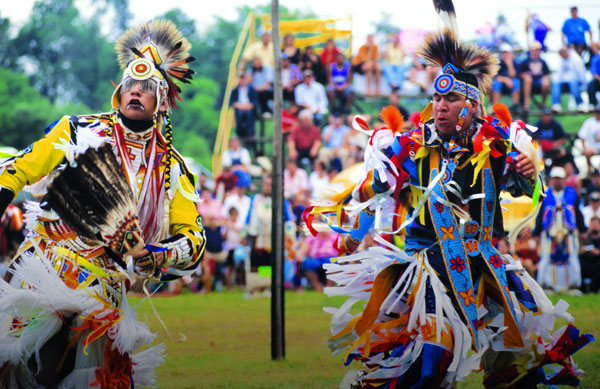 Ontario's aboriginal Indian culture attracts tourists around the world. [Photos provided to China Daily]
During this Golden Week, more Chinese tourists have chosen to go on driving tours abroad. Wang Ru reports.
These veteran outbound Chinese tourists are not just satisfied with "shoot-and-go" sightseeing tours. Instead, because they can afford to, they prefer the exotic experience of traveling all by themselves or only with friends and families. Besides popular Asian destinations such as South Korea and Thailand, such Chinese tourists are fond of driving in big countries such as the United States and Canada.
Zhang Xiaotian, a busy pediatrician in Beijing, who had planned for her current holiday half a year ahead, opted to go on a driving tour in Canada.
"I need to release myself from the stress of my occupation, so I don't want to follow the crowds," she says.
She chose to drive in eastern Canada, to see the mountains of maple trees, crystal-clear lakes and the Niagara Falls.
"Many colleagues and friends shared the same idea, which was to escape from the hustle and bustle for a while and enjoy a flexible and peaceful holiday."
Zhang booked a SUV from a car-renting company in Canada that provided an English-language certificate for her Chinese driving license.
In September, the Ontario Tourism Marketing Partnership Corporation (OTMPC) held a promotional event in the Canadian Embassy in Beijing to introduce self-driving tours in Ontario.
"Ontario is the second largest province of Canada (after Quebec) with many must-see tourism spots, and is especially ideal for self-driving tours," says Song Yijun, counselor of the commercial office of Ontario at the Canadian embassy.
In 1980s, Song, a fan of road trips, drove across Canada for his first time. "For most Canadians, the road trip is a lifestyle," he says.
"With more Chinese families who own cars and have the budget to travel abroad on holiday, I think Canada, especially Ontario, will become a hot destination," he says.
"Eastern Canada, especially Ontario, has large plains and developed highways and a network of flat roads that connects cities and stretches into the wild," says Feng Hui, marketing manager of OTMPC.
"For a one-week driving tour, Ontario is an ideal destination for its landscapes and culture experiences," she says.