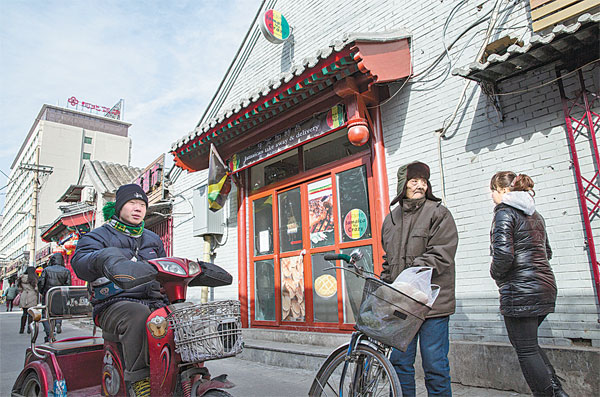 Jamaica Me Crazy, which has become a favorite among young and hip newcomers to Gulou area in Beijing. Provide to China Daily
Many of Beijing's ancient hutong - alleys formed by the outer wall of courtyard homes - have been erased from the cityscape to make way for new roads and high rises in recent years, much - to preservationists' dismay. The hutong that have been spared are celebrated as retaining the charm of residential life, with alleys filled with vegetable stalls, kebab stands and tiny shops, and the hidden courtyards occupied by families who have called them home for generations.
The hutong between the Lama Temple and the Drum and Bell towers have largely escaped the wrecking ball but have undergone a dramatic shift nonetheless. Old-timers have been joined by a new breed of Chinese and expatriate residents clad in skinny jeans riding fixed-gear bikes, a loyal customer base for restaurants that offer locavore menu options and bars that serve drinks such as Pabst Blue Ribbon. In this corner of Beijing, the traditional hutong has been overrun not by a large-scale development, but by a very Brooklyn sensibility.
"Beijing's a very big, monotonous place, but for me the Gulou area is like an oasis in the desert," says Hu Xiaodi, 22, using the Chinese name for the neighborhood around the Drum and Bell towers. She lives in the hutong despite a 40-minute commute by bike (or an hour by subway) to work: "Every day's an adventure." She is the target audience for Natooke (19-1 Wudaoying Hutong), a fixed-gear bike store that doubles as, yes, a juggling shop that opened in 2009. Nearby, Serk (40-2 Beixinqiao San Tiao), a bike shop, cafe and bar, opened in June and sells everything from $240 commuters to $8,000 race bikes. Both shops organize rides in and around the city, which, despite the smog, is one of the best in the world for cycling, flat and easy to navigate.
For those who are not on two wheels, there is an abundance of new restaurants. One, the Taco Bar, opened in August as a speakeasy (with an address that is private until you reserve) that serves food made by a Taiwanese-American chef from Texas. "Our food is simple," says Kin Hong, 29, the owner. "We are able to make most all of our product in-house on a daily basis using local ingredients but still create the same result as if you were in Mexico City." It has a limited menu (a few soft-shell tacos and a handful of sides, washed down with PBR, tequila or sangria) with a sliver of imported ingredients.
Across Andingmen Inner Street, tucked between a duck vendor and a fruit shop, the take-away shop Jamaica Me Crazy (1 Cheniandian Hutong ) offers jerk chicken, stewed rice, oxtail, and ackee and saltfish, Jamaica's national dish. It's become a quick favorite among young and hip newcomers. A few hutong southwest, Beiluo Bread Bar (70A Beiluoguxiang) opened in September. Its menu includes bread baked in-house, pasta (from local ingredients) and some of the hutongs' best coffee.
Mercante (4 Fangzhuanchang Hutong), is arguably the best Italian restaurant in town. Run by Omar Maseroli, 36, and his girlfriend, Yuan Yuan, 31, a Beijing native, Mercante (a quaint 10-table spot) opened a year ago and offers fresh pasta, cold cuts, cheeses and wine from Reggio Emilia and Parma in northern Italy, the cities Maseroli calls home.
Perhaps the most notable change in the hutong has been the influx of bars in recent years. Great Leap (6 DouJiao Hutong), a brewery opened by an US expat in 2010, started Beijing's craft beer scene. Mao Mao Chong (12 Banchang Hutong) is a pioneer of creative cocktails in the alleys, known for its drinks infused with mala, or numbing pepper. Mai Bar (40 Beiluoguxiang), a stylish bar with a small courtyard, offers traditional and modern cocktails and two coolers full of imported beer.
Visitors to the area who spend an evening of drinking there can call the hutongs home for the night. The Orchid (65 Baochao Hutong), a charming 10-room boutique hotel, is just a few hutongs east of the Drum and Bell towers.
Distributed by The New York Times Syndicate