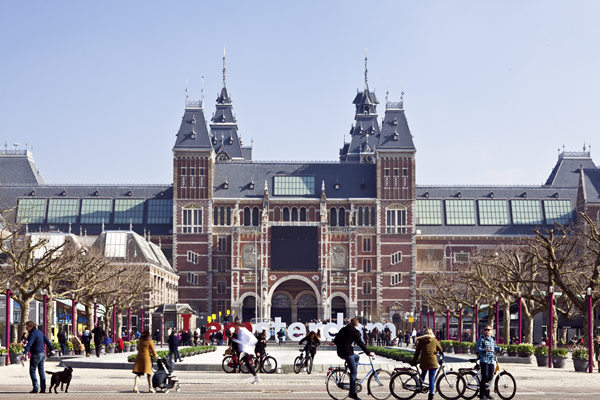 Rijsmuseum is a good destination for both adults and children to enjoy the paintings and architecture, and to hang out at the playground outside. [Photo by Donna Mah/China Daily]
When you tell people you are going to Amsterdam, you'll probably get a nudge and a wink followed by: "Going to any coffee shops while you're there?"
When you tell them you'll be traveling with your two young children, they raise an eyebrow and ask: "Why?"
More famous for the coffee shops that many visitors frequent for Mary Jane than for being a good travel destination with kids, Amsterdam can be a fun and stress-free place for a city break with the little ones. Going to a coffee shop for marijuana wasn't going to make our list of things to do.
To my mind, trips to Europe are filled with museum visits, strolls past beautiful historical buildings and soaking in the general atmosphere. Leisurely walks along waterways and endless cups of coffee while enjoying some quiet time with a good book at a quaint cafe were always part of the agenda.
However, since I started traveling with my children, my trips to Europe and my expectations of these trips has changed dramatically. Quiet time is now considered a luxury.
My husband and I decided to brave the big city of Amsterdam and drove from the east of the Netherlands to spend a few nights at the conveniently located Movenpick City Centre hotel. We arrived at the modern establishment, built on a man-made island right on the IJ.
A short walk from Central Station, it was also easy to access by car. The views of the water and city are spectacular from this location.
Traveling with small children means we usually try to limit the number of activities per day. But we also needed to keep it interesting for everyone, without exhausting ourselves. Our children were 5 and almost 2 on this visit, and the 2-year-old probably had the most energy of all of us.
We'd decided before the trip that we would visit the Anne Frank house, which doesn't sound like it would be very interesting for young children. Yet, surprisingly, they really enjoyed it.
Buy tickets online, and you won't need to line up outside. Children 10 and under are free, but still require a ticket. The house where Anne and her family hid from the Nazis during World War II, where she wrote her famous diary, has narrow staircases that are fun for the children to climb.
At the top of the annex, where the family and their friends hid, are mirrors so you can see the inside attic. But visitors aren't allowed to enter.
The kids enjoyed looking this way and that to see what they could find in the reflection in the mirrors.