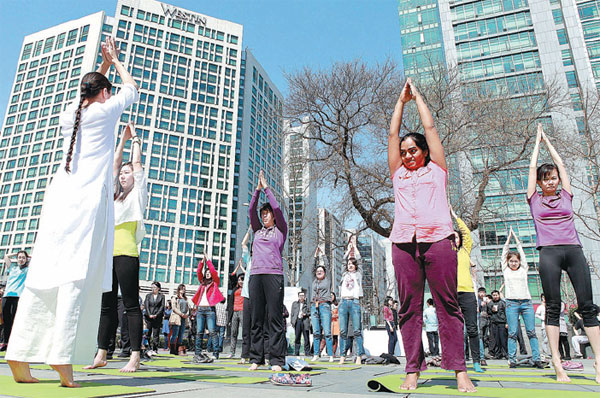 The Westin Beijing Financial Street runs a yoga session to enhance their guests' well-being. Provided to China Daily
Dozens of guests and associates gathered at The Westin Beijing Financial Street recently for a yoga session led by yoga guru Wang Yuan, as part of the Westin Well-being Movement.
More than 200 Westin hotels and resorts around the world celebrated the $15 million global campaign all week, inviting guests, associates and consumers to join their wellness events and programs.
"This is a very important initiative for us. Our recent survey shows that about 80 percent of the respondents are looking for ways to have a healthier lifestyle," says Hazel Ooi, senior brand manager for Sheraton, Westin and Le Meridien in Greater China, Starwood Hotels and Resorts.
To enhance the well-being of their guests and associates around the world, Westin started the yearlong campaign to offer various programs based on the brand's six pillars of feel well, work well, move well, eat well, sleep well and play well.
Guided by Wang, the yoga participants sipped seven cups of hot Chinese green tea, closed their eyes and sat straight up as they concentrated on meditating.
"When I finished my first two cups, I started to move a bit and had a lot on my mind. But after the fifth cup, I surrendered myself to the moment. I felt so much better," Ooi says.
The brand is starting a Westin Well-being Council - a board of thought leaders in different categories according to the six wellness brand pillars. They will offer guests advice on wellness and introduce new programs.
One of Westin's new partners is Headspace, based in London, one of the leading forces in the field of health and well-being.