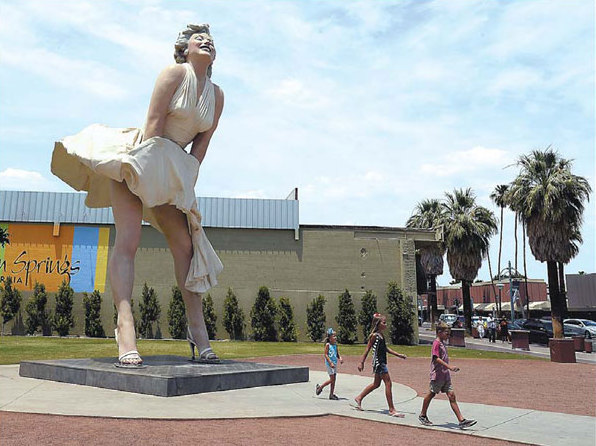 Children visit a giant statue of Marilyn Monroe at the Palm Springs Convention Center in Palms Springs, California. Michael Nelson / For China Daily
Palm Springs is home to outdoor fun, luxurious food and cultural activities, Chris Michaud discovers in California.
Two hours east of Los Angeles, the resort area of greater Palm Springs has attracted Hollywood stars and well-heeled retirees for decades, lured by its proximity to both the entertainment capital and the gambling haven of Las Vegas. With a sunny, dry climate and a backdrop of soaring snow-capped mountains, Palm Springs, Palm Desert and Rancho Mirage offer a bevy of options for outdoor recreation. Annual events include an international film festival and the Kraft Nabisco golf championship, drawing thousands of visitors.
Even short drives give glimpses of modern architecture off roads named for famous denizens, such as Bob Hope, Frank Sinatra and Dinah Shore. (Map: goo.gl/maps/IrPvI)
Reveling in the great outdoors
With its warm and largely rain-free climate, greater Palm Springs is a renowned destination for retirees. From nature hikes and sprawling gardens to unspoiled preserves and stunning mountain vistas, the area has nearly limitless possibilities for visitors seeking outdoor fun and relaxation.
Any Palm Springs visit should include a stroll down Palm Canyon Drive, for both window and real shopping and great people watching.
Check out the towering "Forever Marilyn" Marilyn Monroe statue at 101 North Palm Canyon Drive. Don't be embarrassed about posing for a photo underneath her billowing dress everyone does and peruse the "Walk of Stars" plaques embedded in the sidewalk en route. City officials negotiated an extension of Marilyn's original departure, so she will now be sticking around until this spring.
Another essential experience is at Mount Jacinto, which boasts the world's fastest rotating cable car ride. The entrance to the Palm Springs Aerial Tramway is just off the main artery, Route 111, at the northwestern edge of Palm Springs. (www.pstramway.com/)
It might be 30 C or more in the valley but bring a jacket and be prepared to trek through deep snow at the peak 2,590 meters up, even in spring and fall. Note that the cable car closes every August for maintenance.
At The Living Desert at 47900 Portola Avenue in nearby Palm Desert, lovers of flora and fauna can stroll around 485 hectares, exploring trails, gardens, an aviary and exhibits that include butterflies, mountain lions, reptiles and longhorn sheep. (www.livingdesert.org)
For those seeking a more concentrated garden-and-flora walk, try Moorten Botanical Gardens at 1701 South Palm Canyon Drive. A mere $4 gives you access to this once-private arboretum created in 1938 to feature thousands of varieties of desert trees, cacti and other plants along a nature trail. (www.moortengarden.com/)