Manzhouli, an exotic border city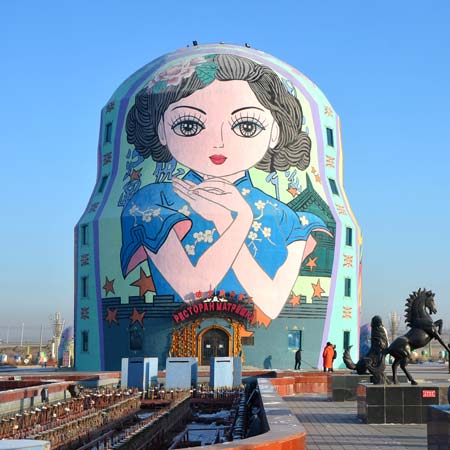 It is the image of a Chinese beauty on one side of a large doll at Taowa Square. The large doll has three sides, which are imprinted with beauty images from China, Russia and Mongolia. [Photo by Bi Nan/chinadaily.com.cn]
The name "Manzhouli" has always been exotic to me, so I was really looking forward to visiting the mysterious city before I embarked on my trip. And when the day finally came, my bus drove through the city, and everyone on board couldn't help but stretch their necks to catch a glimpse of the city. All of sudden those of us who were tired from the long journey were now energetic and excited as we realized the trek had been worth it.
Manzhouli is a charming city that features colorful architecture reminiscent of European and Asian styles. I wondered if I was in a foreign country, as exotic buildings and Russian beauties kept jumping into my sight.
When I went for a walk at night, all the buildings had turned into shining palaces illuminated by lights. It was such a wonderful nightscape!
Located in the northeast corner of the Inner Mongolia autonomous region, and adjoining Russia and Mongolia, Manzhouli is the region's largest land port, and has enjoyed a long reputation of being "A Window of Asia".
The unique conditions make the city a distinct tourism resort. You can visit famous attractions, like Taowa Square and China's monumental guomen or national gate. Or you can go to the suburbs to enjoy the grand view of Hulun Lake or the boundless stretch of Hulunbuir prairie. You can also visit a Mongolian tribe to see how they live. If you are lucky enough, you will have a chance to watch a beauty pageant between China, Russia and Mongolia.
If you just want to roam around the city then there is also much to see. The city is small, with only several main streets, and you can go almost anywhere just by walking. You can do things such as take pictures of the exotic architecture, buy some Russian goods at the local stores, or have a drink at a local Russian-style bar. All you have to do is slow down and wander within the city, and you will encounter many surprises.
Related special: Enjoy ice and snow in Inner Mongolia