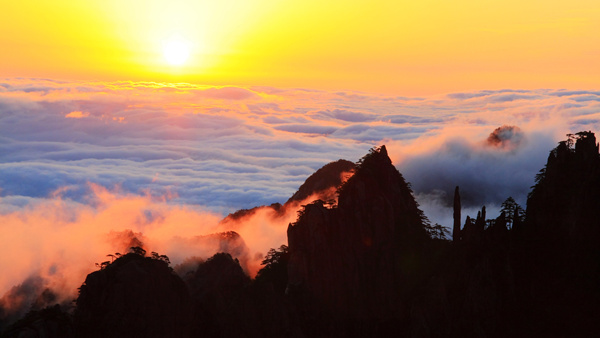 Photo provided to China Daily
A race to the summit of Mount Huangshan is a fitness test with a view, Gao Changxin finds.
Having groups of paunchy, middle-aged men race past me as they went up Anhui's breathtaking Mount Huangshan last weekend was humiliating enough. The fact that many of them were marching backwards-like some outtake from a Monty Python sketch or David Lynch movie-just added to my burning sense of failure and self-torment. As I heaved my body up a stone staircase surrounded by dagger-shaped rocks half-buried in mist, I tried to think up a decent excuse for moving at such a snail's pace. After all, it was only two months ago that I had been living in Hong Kong, rowing every weekend and hitting the gym regularly.
Already, life in Shanghai had taken its toll on my health.
Recognizing the appeal of Huangshan to city slickers as both a lush getaway and healthy retreat, the local government organized the race to the summit and invited 3,000 competitors from around the country to take part. As many people have been here before, it also provides a good excuse to visit again-with a stopwatch and sense of challenge. The race is scheduled as an annual event, but there's nothing stopping you from jumping in your SUV with some friends and seeing how long you need to make the grueling ascent.
That is, if you even need an excuse to visit. Offering striking vistas due to its weirdly shaped rocks, granite peaks, pine trees and swirling mist formations, the mountain ranks as a UNESCO World Heritage Site. Although it does not make either of China's lists of sacred mountains (there are nine), many consider it is unrivaled in terms of sheer beauty and visual splendor. It is also fairly easy to get to from Shanghai.
As I labored my way up its trunk, however, the air suddenly felt starved of oxygen and the colors began swirling around and dancing as one. I wondered if walking backwards actually somehow made the task easier, as unlikely as this sounded.
"No, not really any easier, but your knees won't hurt as much if you alter your posture," one seemingly veteran climber told me before vanishing into the mist above. "Anyway, it works for me..." he said, the final words echoing through the cloak of fog as though he were speaking to me from beyond the grave. I felt my pulse and hoped this wasn't some kind of ill-omened portent. All I could hear was the sound of my own heartbeat filling up the silence around me.
People often describe Huangshan as looking like a traditional Chinese ink painting, but only when you see it for yourself do you realize this is neither hype nor hyperbole. One of the landmarks is even called "hard to believe peak".