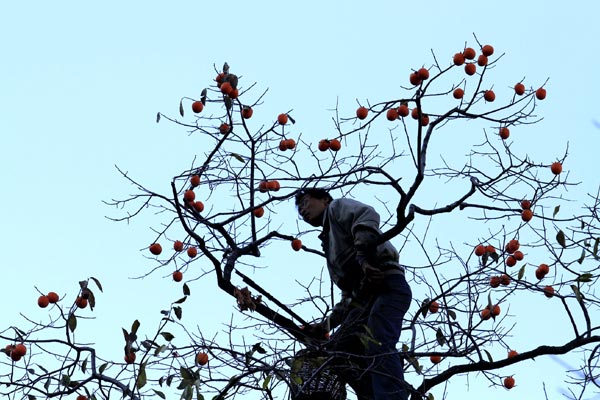 Farmers climb the tall trees on creaky ladders to collect the fruit.
To make quality persimmon cakes, as the dried fruits are called, Zhang says he has to massage them regularly.
"A week after you first string them up, you have to gently massage each persimmon every other day," Zhang says. A light touch massage works better than a deep, he says.
After a few weeks of rubbing, the fructose in the persimmons rises to the surface, making it appear as if each fruit has been dipped in powdered sugar. The fruits are done when they are properly dehydrated and have a chewy texture.
Qingzhou produces more than 30,000 tons of persimmons and the dried fruit is sold to dozens of countries, including Japan, the Republic of Korea and the United States.
Walking through the villages is to be transported through time and space. The houses are made of stone and mud, and residents still get their water from wells. Electrical appliances are rare.
A farmyard symphony of barks, crows and bleats reminds the visitors how far they have come from the city.
Located 900 meters above sea level, Dongding village has weathered more than 150 years in the mountains. But now, the harsh living conditions have decimated the population to just about 20.
In the company of a sheep and a dog, 79-year-old Yang Tingshui says he's very satisfied with life.
"My children invited me to live with them in the modern building, but I declined. I prefer to spend the rest of my life here," Yang says, adding that life in the village is simple and healthy.
Film directors come here often to take advantage of the picturesque scenery, ancient houses and traditional lifestyle. Among the movies filmed here are Journey to the West, with a plot set in the Tang Dynasty, and Outlaws of the Marsh, which is about stories of the Northern Song Dynasty (960-1127).
City adventurers who want to stay for a few days can rent a room from residents in Wenli village. It will cost 30 yuan ($4.9) a day, and that covers accommodation and meals. And you get to enjoy the harvests from the mountains, including persimmon cakes, walnuts, peanuts, hawthorn berries, as well as all kinds of wild vegetables.
If you go
You can take the Yantianshan Mountain shuttle bus at Qingzhou Long-distance Bus Station. Bus ticket costs 11 yuan ($1.8).
There are high-speed trains to Qingzhou city from Beijing and Shanghai. Taxis run from Qingzhou Railway Station to Qingzhou Long-distance Bus Station.
For those driving, leave the highway from Qingzhou Station and drive south for another 50 kilometers.