Kempinski sends out signals with feast in Shanghai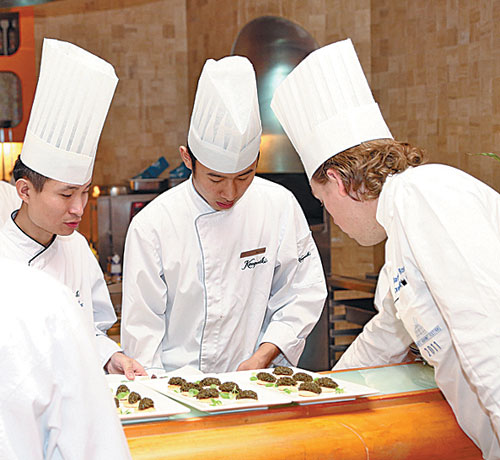 The Regional Gourmet Summit was recently held at the Grand Kempinski Hotel, Shanghai. Provided to China Daily
The 19-course-dinner concept was a challenge, but the chefs passed with flying colors. Now the manager of the Kempinski hotel chain hope they can see the broader plan through to fruition and gain a market edge in China and beyond by aggressively pivoting to food and beverage in 2014.
Three master chefs had two hours to oversee an elaborate banquet at the Grand Kempinski Hotel Shanghai recently, the highlight of three days of dining and workshops under the Regional Gourmet Summit 2013 banner.
The flagship property in Shanghai's financial district of Lujiuzui was officially re-branded on May 15, when the chain took over its management.
"We work on combining the best of Chinese cuisine with our rich European heritage in order to drive new creations," says Stphane Bellon, the chain's vice-president of corporate food and beverage.
"The Regional Gourmet Summit is a perfect example of how we drive our food and beverage division from good to best; it combines hard work with pleasurable and unexpected moments, and we aim to develop new ideas and innovations."
The master and executive chefs had a tight window in which to serve local dishes and delicacies from 18 cities and regions in China and one in Ulaanbaatar, Mongolia, representing the European hotel chain's 19 properties in those destinations.
Adding to the ambiance were martial art-edged tea-pouring dances and traditional music recitals on the guzheng, the Chinese zither, as the hotel stamped its intention of localizing operations.