Village revels in former glories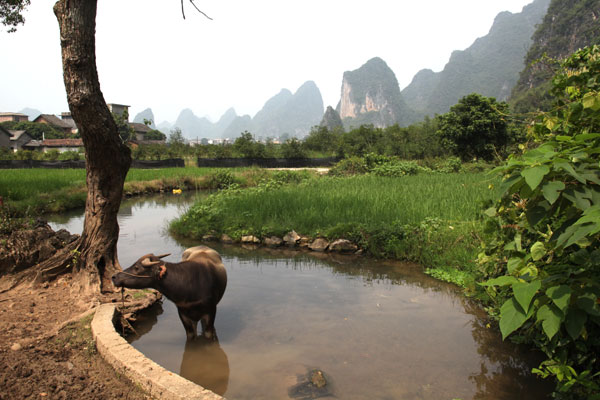 Xiaoqingshan village in Lipu county of the Guangxi Zhuang autonomous region offers visitors views of old houses and karst scenery. Photos by Huo Yan / China Daily
Xiaoqingshan village in Lipu county of the Guangxi Zhuang autonomous region has a long history of defending itself from invaders, leaving it with a fascinating architectural legacy. Li Yang reports.
There is an old Chinese belief that families will prosper if they spend rainy days reading indoors and the rest of the time plowing the fields outdoors. If family members master some form of martial arts and have the ability to defend themselves, then they will become role models for others.
Xiaoqingshan village in Lipu county of the Guangxi Zhuang autonomous region has been a community of such families since its establishment in the Song Dynasty (960-1279).
The legendary stories and old buildings in the village are the most popular topics of conversation for the seniors who still live there.
As its Chinese name indicates, the village is located on the southwest of a solitary peak, about 100 meters high, which stands at the center of a small basin surrounded by mountain ranges and semi-encircled by streams. The villagers cultivate 40 hectares of farmland, planting taro and rice in the basin.
The peak has two caves at its bottom, each 300 square meters, which served as shelter for villagers and cattle during the many wars that blighted the village over the course of its history.
"The last time we used it was in the war with the Japanese in 1944," says the 50-year-old village head Deng Zhijun. "I think the two caves were the main reason Yang Wenguang chose the site to build his barracks."
Yang is a famous general from the Song Dynasty sent to Guangxi to guard the borders. He built his barracks around the anonymous peak.
The children of the soldiers stayed in the area and developed the barracks into a village. The village grew prosperous thanks to its rich water and soil. It had 1,060 people from 263 families in its prime in the late Qing Dynasty (1644-1911). Today, only 300 people from about 160 families live there, and most of them work as migrant workers in factories in Guangdong and Fujian provinces.
Chen Jia is a famous general from the village, who defeated the invading French army coming from Vietnam in the Sino-French War (1883-1885). Chen died from war wounds and was buried in the village at the age of 46 in 1885.
Chen's memorial hall, which is in his former ancestral home, and his statue, stand in the village's small square, the site for important village activities.