Quiet frontiers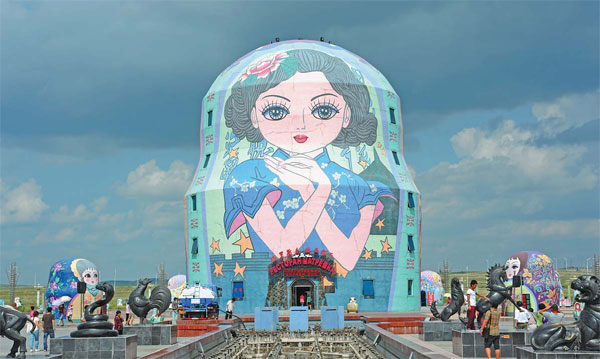 Manzhouli's Taowa Square is a popular tourist site, which features three huge Russian dolls, brass statues of the 12 Chinese zodiac animals and sculptures from various fairytales. Provided to China Daily
It's a peaceful northern post that has seen more than its share of China's revolutionary history. Today, it struggles to keep its unique position as a historic border town while facing increasing pressure to become economically viable. Pauline D. Loh visits Manzhouli in the Inner Mongolia autonomous region.
Related: Exotic experiences in border cities
China has many border crossings on land and sea, but none has the romance and history of this little city tucked away in the northeast of the country on the vast Hulunbuir grasslands. On the map, it is settled like a tiny birthmark at the base of the Chinese rooster's comb. It's located many kilometers from its nearest urban neighbors in Heilongjiang province and about two hours from Beijing by air. The Russian town of Zabaykalsk is situated immediately north of Manzhouli.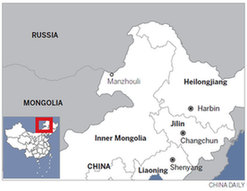 Manzhouli is China's largest port of entry on land, and it carries the baggage of a lot of history, stamped by the influences of the past in both architecture and lifestyle.
This is an old land at the edge of vast, primitive grasslands that are wet, wild and windy.
Remains of prehistoric peoples have been found here, as was an almost whole mammoth skeleton. It's the traditional pasture grounds of nomadic tribes, ancestors of modern Mongolians and Manchurians, including famous invaders of the past, such as the Xiongnu and Khitan.
The town itself and its name actually originate from a rather humbling part of Chinese history when, in the declining years of the Qing Dynasty (1644-1911), the Russians forced Beijing to sign the Treaty of Aigun in 1858 and effectively created the present boundaries between China and Russia.
Another treaty signed in 1896 created the China Far East Railway, which opened up train tracks between China and Russia and made Manzhouli the first point of entry into China from the Russian bloc.
Manzhouli finally became part of the Inner Mongolia autonomous region in 1949 with the founding of the People's Republic of China.