Travel Special: Tour offers visitors rare inside look at famed Shaolin Temple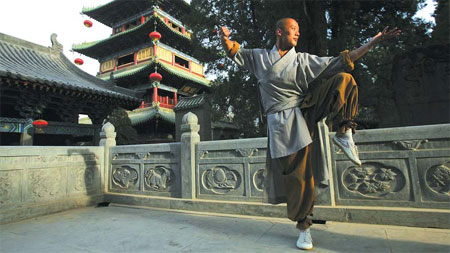 A Shaolin monk practices martial arts. Photos Provided to China Daily
The movies of Bruce Lee and Jackie Chan have helped to kindle a global fascination with Chinese kung fu.
Now, tourists will get a chance to take a closer look at where it all began.
Planet Travel is launching a new tour of Shaolin Temple in Henan province, the birthplace of an important school of martial arts, for the coming National Day holiday in October.
Normally, Shaolin Temple's practice space and living quarters are not open to visitors, so most travel agencies in the country only allow travelers to learn martial arts outside the temple.
However, Planet Travel now is providing a chance for visitors from China and abroad to stay in the temple, eat with the disciples, practice kung fu and be far from the maddening crowds during the holiday.
In a word, visitors can experience what the life of a martial arts disciple is like.
They may not become a master of Shaolin martial arts at the end of the journey, but at the very least they will come closer to understanding the meaning of real Chinese kung fu.
Even without the martial arts training, the three-day holiday option is worth considering as an opportunity leave behind bustling cities for a bucolic refuge like the Shaolin Temple, said executives of the travel agency.
Related:
Travel Special: Kung fu fans need not leave the capital to get their kicks